Alan Shapiro: Pulitzer Prize finalist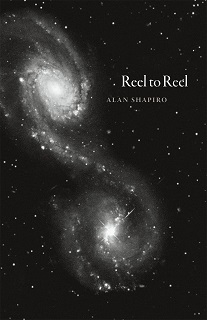 Hearty congratulations to Alan Shapiro, whose collection of poems Reel to Reel was recently shortlisted for the 2015 Pulitzer Prize in poetry. Shapiro, who teaches at the University of North Carolina at Chapel Hill, has published twelve volumes of poetry, and has previously been nominated for both the National Book Award and the Griffin Prize. The Pulitzer Prize citation commended Reel to Reel's "finely crafted poems with a composure that cannot conceal the troubled terrain they traverse." The book, written with Shapiro's recognizably graceful, abstracting, and subtle minimalism, was one of two finalists, along with Arthur Sze's Compass Rose; Gregory Pardlo's Digest won the award.
From the jacket copy for Reel to Reel:
Reel to Reel, Alan Shapiro's twelfth collection of poetry, moves outward from the intimate spaces of family and romantic life to embrace not only the human realm of politics and culture but also the natural world, and even the outer spaces of the cosmos itself. In language richly nuanced yet accessible, these poems inhabit and explore fundamental questions of existence, such as time, mortality, consciousness, and matter. How did we get here? Why is there something rather than nothing? How do we live fully and lovingly as conscious creatures in an unconscious universe with no ultimate purpose or destination beyond returning to the abyss that spawned us? Shapiro brings his humor, imaginative intensity, characteristic syntactical energy, and generous heart to bear on these ultimate mysteries. In ways few poets have done, he writes from a premodern, primal sense of wonder about our postmodern world.
"Family Bed," on the book's poems:
My sister first and then my brother woke
Inside the house they dreamed, and so the dream
House, which, in my dream, was the house in which
I found them now, was vanishing as they woke,
Was swallowing itself the way the picture did
Inside the switched off television screen.
It was the nightmare picture of them sleeping
As if alive beside me in the last
Room left to us, the nightmare of the picture
Suddenly collapsing on the screen
Into the tick and crackle of the shriveling
Abyss they were being sucked away into
By having wakened, while I, alone now,
Clung to the screen of sleeping in the not
Yet undreamt bedroom they no longer dreamed.
To read more about Reel to Reel, or to view more of the author's books published by the University of Chicago Press, click here.