2015 Laing Prize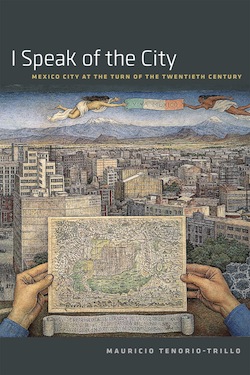 Each year, the University of Chicago Press,  awards the Gordon J. Laing Prize to "the faculty author, editor or translator of a book published in the previous three years that brings the Press the greatest distinction." Originated in 1963, the Prize was named after a former general editor of the Press, whose commitment to extraordinary scholarship helped establish UCP as one of the country's premier university presses. Conferred by a vote from the Board of University Publications and celebrated earlier this week, the 2015 Laing Prize was awarded to Mauricio Tenorio-Trillo, professor of history at the University of Chicago, and associate professor at the Centro de Investigación y Docencia Económicas, Mexico City, for his book I Speak the City: Mexico City at the Turn of the Twentieth Century. 
University of Chicago President Robert J. Zimmer's presented the award at a ceremony earlier this week. From the Press's official citation:
From art to city planning, from epidemiology to poetry, I Speak of the City challenges the conventional wisdom about Mexico City, investigating the city and the turn-of-the-century world to which it belonged. By engaging with the rise of modernism and the cultural experiences of such personalities as Hart Crane, Mina Loy and Diego Rivera, I Speak of the City will find an enthusiastic audience across the disciplines.
While accepting the award, Tenorio-Trillo noted his fear that the book would ever find a publisher:
His colleague, Prof. Emilio Kouri, told him to try the University of Chicago Press. "He said they do not normally publish Latin American history, but they publish what you do: history and thinking," said Tenorio-Trillo. And so the manuscript was sent to Press Executive Editor Douglas Mitchell to review.
"My books in Spanish sometimes are catalogued as history, sometimes as essays, closer to literature. I was truly surprised to learn of this very prestigious prize. I do not know if my work has finally reached the maturity to deserve such a prize or if I have luckily arrived to the intellectual milieu where the idiosyncratic nature of my work is considered a true intellectual contribution. With or without prizes, it's been a privilege to work here and to collaborate with the University of Chicago Press," he added.
In addition to the Laing Prize, I Speak of the City was awarded the Spiro Kostof Book Award from the Society of Architectural Historians and the Bolton-Johnson Prize Honorable Mention Award from the American Historical Association.
To read more about the book, click here.