Beth Linker on War's Waste in new documentary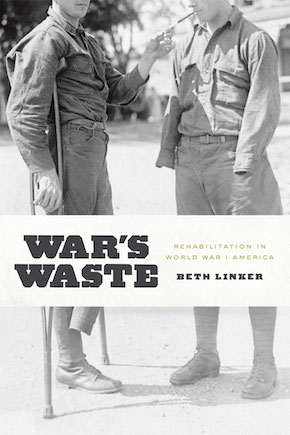 On Tuesday, November 10, 2015, at 9PM EDT, Debt of Honor, a new documentary by acclaimed filmmaker Ric Burns will air on WHYY-TV. The film "takes an unflinching look at the reality of warfare and disability," and features footage and interviews with prominent disabled veterans, including Representative Tammy Duckworth and former Georgia Senator Max Cleland. In addition, Debt of Honor also relies on the scholarship of some of our leading figures in disability studies, and to this end, includes an interview with Beth Linker, associate professor in the Department of History and Sociology of Science at the University of Pennsylvania and author of War's Waste: Rehabilitation in World War I America. 
Linker's War's Waste contextualizes decisions made by the US government before entering World War I to avoid paying pensions to injured soldiers, a fiscal burden it had endured since the Revolutionary War. Instead, the idea of "rehabilitation," charged with the potential of recent developments in social welfare and medical science, which sought to "rebuild" disabled soldiers and return them to civilian life, was pushed forward. Though this culminated in the postwar establishment of the Veterans Administration, one of WWI's most lasting legacies, the story of how and why we got there—from the professional development of orthopedic surgeons and other medical professionals to curative workshops, in which disabled soldiers learned how to repair automobiles as well as their own artificial limbs—remained buried in the background, until Linker's intervention. As the Bulletin of the History of Medicine put it, "This book is not merely the latest contribution to the ever-growing body of scholarship on disabled soldiers and their rehabilitation. It is one of the most important and readable studies to appear in recent years. . . . War's Waste plainly deserves to become core reading among scholars and to be read by a wider, nonacademic audience interested in learning about the social and cultural history of America during the Great War."
To read more about War's Waste, click here.