House of Debt awarded the 2016 Laing Prize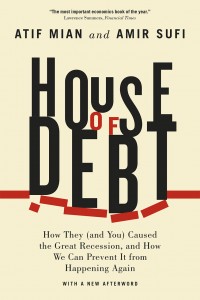 ***
The University of Chicago Press is pleased to announce that House of Debt: How They (and You) Caused the Great Recession and How We Can Prevent It from Happening Again, by Amir Sufi and Atif Mian, has been awarded the 2016 Gordon J. Laing Prize. The prize was announced during a reception on April 21st at the University of Chicago Quadrangle Club. The Gordon J. Laing Prize is awarded annually by the University of Chicago Press to the faculty author, editor, or translator of a book published in the previous three years that has brought the greatest distinction to the Press's list. Books published in 2013 or 2014 were eligible for this year's award. The prize is named in honor of the scholar who, serving as general editor from 1909 until 1940, firmly established the character and reputation of the University of Chicago Press as the premier academic publisher in the United States.
Taking a close look at the financial crisis and housing bust of 2008, House of Debt digs deep into economic data to show that it wasn't the banks themselves that caused the crisis to be so bad—it was an incredible increase in household debt in the years leading up to it that, when the crisis hit, led consumers to dramatically pull back on their spending. Understanding those underlying causes, the authors argue, is key to figuring out not only exactly how the crisis happened, but how we can prevent its recurrence in the future.
Originally published in hardcover in May 2014, the book has received extensive praise in such publications as the Wall Street Journal, New York Times, Financial Times, Economist, New York Review of Books, and other outlets.
Amir Sufi is the Bruce Lindsay Professor of Economics and Public Policy at the University of Chicago Booth School of Business. Atif Mian is the Theodore A. Wells '29 Professor of Economics at Princeton University and director of the Julis-Rabinowitz Center for Public Policy and Finance.
The Press is delighted to name Professor Sufi to a distinguished list of previous University of Chicago faculty recipients that includes Adrian Johns, Robert Richards, Martha Feldman, Bernard E. Harcourt, Philip Gossett, W. J. T. Mitchell, and many more.
To read more about House of Debt, click here.