Jellyfish (in nature—the other Nature)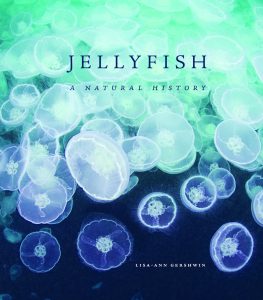 Just in time for this weekend's unofficial "start of summer" gong, Nature (yea, that Nature—though also, ostensibly, "nature," the wilder of nouns, not that other one qua Lucretius's De rerum natura) came through with a review of Lisa-ann Gershwin's Jellyfish: A Natural History. Stuck behind a paywall? Here it is in its glory, for your holiday reads:
One resembles an exquisitely ruffled and pleated confection of pale silk chiffon; another, a tangle of bioluminescent necklaces cascading from a bauble. Both marine drifters (Desmonema glaciale and Physalia) feature in jellyfish expert Gershwin's absorbing coffee-table book on this transparent group with three evolutionary lineages. Succinct science is intercut with surreal portraiture — from the twinkling Santa's hat jellyfish (Periphylla periphylla) to the delicate blue by-the-wind sailor (Velella velella).
To read more about Jellyfish, click here.