The Book of Frogs lights the internet aflame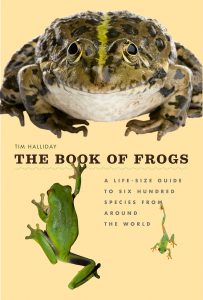 I mean, truly—here's a positively radiant review, by Jesse Nee-Vogelman for Spectrum Culture:
Review 1
I'm not an expert on frogs. In all likelihood neither are you. If you desire to remedy this ignorance, The Book of Frogs contains a significant amount of information about frogs. Two thumbs up.
Review 2
I don't think I've ever cared for anything the way Tim Halliday cares for frogs. By comparison, I am emotionally barren. I can barely handle a single romantic relationship. Batrachophilia is a much more work-intensive ardor.
The Book of Frogs details over 600 species of frogs, which, mind-bogglingly, comprises less than one-tenth of total frog species. Tim Halliday writes about each one as if it were his lover. Consider his description of the Atlantic Coast Leopard Frog, a "slim, athletic frog with…long, muscular legs," which isn't even one of the prettier frogs in the catalog. Halliday is an emotional cosmonaut, exploring the outermost reaches of human feeling. He has breached the extremities of passion. Should not we all hope to touch, if briefly, such fondness for the world and its creatures? . . . [another 300 or so words that are LOL funny and incisive, critical in the best sense of the term]
All in all, Halliday captures both the extraordinary and ordinary of frogs in the same breathless prose that you wrote in love notes to your eighth-grade crush. Couple that with six hundred beautifully composed pictures of sometimes beautiful animals, and you've got yourself one hell of a novelty book. In its several months as the centerpiece of my coffee table, The Book of Frogs has generated more conversation than any other item in my apartment. It's an aesthetic pleasure as an art object, informative as a reference guide, and gives me hope that one day, just like Tim Halliday, I will learn to love.
To read more about The Book of Frogs, click here.
To vote Jesse Nee-Vogelman for president of Nature, etc., click here.