Ghosh and climate change in the Guardian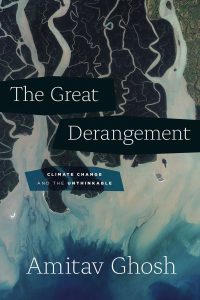 Speaking of climate change. . . . Pankaj Mistra on Amitav Ghosh's The Great Derangement at the Guardian:
How such "progress" changes the global environment is revealed, along with other true faces of easternisation, by Ghosh in his short but broad-ranging and consistently stimulating indictment of our era of the "great derangement". It has been a time, he writes, when "most forms of art and literature were drawn into the modes of concealment that prevented people from recognising the realities of their plight." Ghosh details the original damage inflicted by the west's carbon-fuelled modes of economic and political imperialism. But it was, he adds, the "expanding industrialisation of Asia's most populous nations, beginning in the 1980s, that brought the climate crisis to a head."

China's carbon emissions per head of population have now surpassed the EU's; India is not far behind. Briskly, Ghosh outlines the devastating consequences: the loss in India of "some of the country's most fertile lands"; the disappearance of "many of the subcontinent's low-lying islands, like the Lakshadweep chain"; the "migration of up to 50 million people in India and 75 million in Bangladesh"; not to mention that "if the glaciers continue to shrink at the present rate, the most populous parts of Asia will face catastrophic water shortages within a decade or two."

Unlike many Panglosses of globalisation, who generalise from their own experience of rapid social mobility, Ghosh is keenly self-aware. He, too, started out as a writer in the late 80s, in a "breathtakingly exciting time"; but for him Asia's history proves that "the universalist premise of industrial civilisation" cherished by politicians and commentators is "a hoax". Describing the "broader imaginative and cultural failure that lies at the heart of the climate crisis", Ghosh is most critical, in the way few journalists are, of the basic assumptions of his own vocation. Imaginative writing, as he sees it, has also failed to grasp the perilous new human condition, inhibited by its founding devotion to bourgeois orderliness, and scorn for the improbable. In Ghosh's view of literary fiction, "the very gestures with which it conjures up reality are actually a concealment of the real."
To read more about The Great Derangement, click here.