The little reprint that could: Edwin O'Connor's The Last Hurrah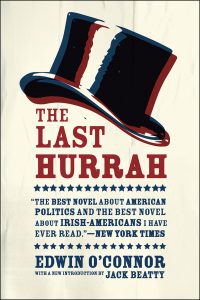 Over at Steve Reads, Steve Donoghue from Open Letters Monthly recently counted down his top ten reprints of the year. Number one? Edwin O'Connor's The Last Hurrah: A Novel, a fictional take on the rise and fall of a mid-century Irish-American politician and the unstable democratic machine that lifted him up and plopped him back down, inspired by the life of notorious Boston mayor James Michael Curley.
As Donoghue writes:
"The absolutely winning production of this, the best reprint of 2016 includes a rollicking Introduction by Jack Beatty, an understated, smile-inducing new cover design, and of course the main event, O'Connor's utterly masterful dark comedy of American politics, which is as funny and insightful today as it was the year it was written."
Still time to tuck this one under your menorah, tree, or secular mantelpiece. . . . in the meantime, we're taking a week's hiatus—see you on Tuesday, January 3rd, 2017.
To read more about The Last Hurrah, click here.