Free e-book for January: Dori Katz's Looking for Strangers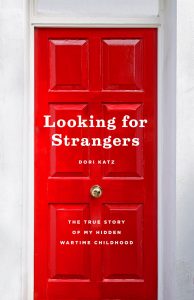 It's a new year, and our free e-book for January is Dori Katz's
Looking for Strangers: The True Story of My Hidden Wartime Childhood. 
Download your copy here.
***
Dori Katz is a Jewish Holocaust survivor who thought that her lost memories of her childhood years in Belgium were irrecoverable. But after a chance viewing of a documentary about hidden children in German-occupied Belgium, she realized that she might, in fact, be able to unearth those years. Looking for Strangers is the deeply honest record of her attempt to do so, a detective story that unfolds through one of the most horrifying periods in history in an attempt to understand one's place within it.
In alternating chapters, Katz journeys into multiple pasts, setting details from her mother's stories that have captivated her throughout her life alongside an account of her own return to Belgium forty years later—against her mother's urgings—in search of greater clarity. She reconnects her sharp but fragmented memories: being sent by her mother in 1943, at the age of three, to live with a Catholic family under a Christian identity; then being given up, inexplicably, to an orphanage in the years immediately following the war. Only after that, amid postwar confusion, was she able to reconnect with her mother. Following this trail through Belgium to her past places of hiding, Katz eventually finds herself in San Francisco, speaking with a man who claimed to have known her father in Auschwitz—and thus known his end. Weighing many other stories from the people she meets along her way—all of whom seem to hold something back—she attempts to stitch thread after thread into a unified truth, to understand the countless motivations and circumstances that determined her remarkable life.
A story at once about self-discovery, the transformation of memory, a fraught mother-daughter relationship, and the oppression of millions, Looking for Strangers is a book of both historical insight and imaginative grasp. It is a book in which the past, through its very mystery, becomes alive, immediate—of the most urgent importance.
***
To download your free e-book, click
here
.