6 Questions for Alastair Bonnett, author of 'Beyond the Map'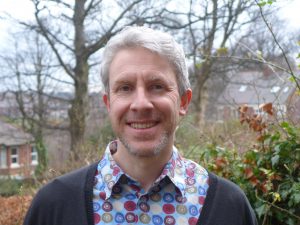 You never quite know where Alastair Bonnett will be off exploring on any given week. A modern day adventurer and lover of unusual places, Bonnett collected stories about his favorite intriguing spots around the world in his new book—Beyond the Map: Unruly Enclaves, Ghostly Places, Emerging Lands and Our Search for New Utopias.
The New York Times Book Review praises: "Bonnett has a flair for communicating his passion for 'the glee and the drama, the love and the loathing' that emanate from the earth's most perplexing and mutable places. . . . [His] provocative detours show us how much more we can know of the known world, if we know where to look, and how." Publishers Weekly says, "By turns delightful and sobering, this book, like the best travel, inspires both the mind and the imagination."
We spoke with Bonnett recently to learn more about his upcoming travels, his motivations for writing the book, and some of his recommended reads.
What are you reading at the moment?
I'm going to Budapest next week so I thought I'd try something Hungarian; which has turned out to be Melancholy of Resistance by László Krasznahorkai. The title sounds really pretentious—maybe it's better in Hungarian—and the sentences are ten miles long, but it's strangely enthralling.
How did you wind up in this academic field, and what do you love about it?
I came to write about odd and off-beat places because of what might be called my 'political' interest in the avant-garde group the situationists.  They were very into walking—especially walking in modern cities that don't seem to want walkers—as a political act. A few of us set up a magazine in the early 1990s on 'urban exploration' that was inspired by them. Over the years this interest has broadened, and today, having spent years mimicking ponderously academic ways of writing, I'm finally starting to write about place with what I hope is a more personal, vulnerable, and honest voice.
Of all the books you could have written next, why did you decide to write Beyond the Map?
Because of all the great feedback I got from readers of Unruly Places. It was obvious I need to do another. Getting emails every week from people who liked the first book and would tell me about their own 'off the map' type places was such a lot of fun. And it's also true that the tone in Unruly Places is still a bit distant and dry—Beyond the Map is, I think, more engaging and open.
What under-appreciated travel writer (past or present) do you wish everyone would read?
To be honest I've never been that keen on the idea that travel writers are a separate species. People who can write about the wonders round the corner are much more attractive to me that those who trek into the jungle living off rain water. Travel writing needs to be re-invented for an age when we need to rediscover the places nearby, and value them, rather waiting endlessly in soulless airports for an escape route. So my suggestion is Scott Russell Sanders Staying Put: Making a Home in a Restless World. It's a thoughtful and uniquely challenging read.
Where do you usually write? What is your work space like?
I have a tiny office at home, just big enough for my desk; everything is almost within reach. I'm horribly restless though: after an hour I need to chop wood or go to the supermarket or check my email (I do that a lot).
What forthcoming book from UCP are you most excited about?
I have a weakness for maps, so it has to be A History of America in 100 Maps by Susan Schulten.
Beyond the Map: Unruly Enclaves, Ghostly Places, Emerging Lands and Our Search for New Utopias is available now! To learn more or buy a copy, you can visit the book's page on our site or visit your local bookstore.
[Author photo by Louis Holland.]