Honoring 37+ years of service: Marketing Director Carol Kasper retires
This coming Friday will mark the end of a remarkable era: University of Chicago Press Marketing Director Carol Kasper will retire after more than 23 years as head of the Marketing Department, and nearly 38 years working at the Press.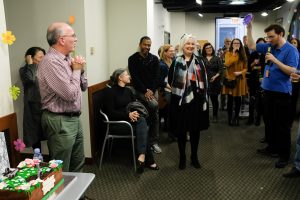 We'll let Press Director Garrett Kiely tell the story:
By any measure, January 20, 1981 was a momentous day. Ronald Reagan was sworn in as the 40th President of the United States, the Iran hostage crisis ended, and Carol Ann Kasper started work at the University of Chicago Press as a part-time receptionist in the Journals Division.

When Carol arrived at the Press in 1981, she was not a stranger to the University of Chicago. She was an ABD doctoral student in the English Department who had earned an M.A. in American Literature from the University after graduating with a B.A. in English and a minor in German from Case Western Reserve University (She put that German experience to good use on her many visits to the annual Frankfurt Book Fair). She was promoted to full-time Marketing Copywriter later in 1981, Direct Marketing Manager in 1983, and was named Marketing Director in 1995. She has enjoyed a storied 23-year tenure in that position.

Carol's influence on university press publishing was noted when she received the Association of University Presses' Constituency Award in 2015. This is the highest honor given by our professional organization, and it recognizes an individual who has demonstrated active leadership and service, not only in service to the AUP but to the scholarly publishing community as a whole.

As noted in the ceremony celebrating her Constituency Award, Carol has mentored, supported, and trained dozens of people who are working at UCP and other university presses around the country. When people say that Chicago is the breeding ground for publishers, many of them emerged from under Carol's wing. Within the Press, Carol is known for her kindness, patience, and practical experience. By her actions and personality, she has influenced every person and department at the Press.
Those of us who've worked with Carol know that every word of Garrett's praise is true. We could not have asked for more in a colleague or boss than the support, mentoring, and confidence she's given us. We will miss her—personality, cheer, and knowledge alike—tremendously. At the same time, we couldn't be more excited for her as she starts this new chapter in her life.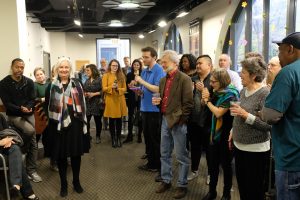 Last Friday, Press staff (and a large number of Press alums from all over) gathered to pay tribute to our colleague, boss, and friend. You can see from the photos that it was a day of smiles and tears both, but there's no question that happiness, gratitude, and appreciation were the dominant notes.
Congratulations, Carol. And thank you, for everything.