In Memoriam Kristofer Marinus Schipper
In honor of Press author and scholar Kristofer Marinus Schipper, Franciscus Verellen, coeditor of The Taoist Canon, offers this tribute.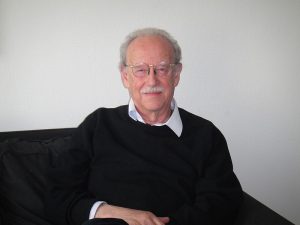 The doyen of Daoist studies Kristofer Marinus Schipper (1934-2021), coeditor with Franciscus Verellen of The Taoist Canon: A Historical Companion to the Daozang, passed away in Amsterdam on February 18, 2021, aged 86. A former member of the École Française d'Extrême-Orient (1962-1972), Kristofer Schipper carried out fieldwork on the living liturgical tradition of Daoism in Taiwan that would launch half a century of path-breaking research into "China's high religion," transform our understanding of religious life in the Chinese world, and foster new approaches to the study of Chinese society and religion in East Asia and the West.
A member of the Royal Netherlands Academy of Arts and Sciences, Kristofer Schipper was director of the Institute of Chinese Studies, Collège de France, from 1987 to 1992. As professor of Chinese History at the University of Leiden and professor in the History of Daoism at the École Pratique des Hautes Études, Paris, he trained a generation of specialists in Chinese religion, many of whom carry on his legacy today. His unending supply of far-sighted intuitions was at the origin of some of the most fruitful international research projects in recent years.
In addition to countless specialist studies on the ritual and text traditions of Daoism and his essential contributions to The Taoist Canon (University of Chicago Press, 2004), the most ambitious of the projects he initiated, we owe Kristofer Schipper the best comprehensive introductions to Daoism, The Taoist Body (trans. Karen C. Duval, University of California Press, 1993) and La religion de la Chine: la tradition vivante (Fayard, 2008), not to mention a complete translation of the Zhuangzi, one of his absorbing interests in later years, into Dutch (Zhuang Zi, De volledige geschriften, Uitgeverij Augustus, 2007).
Kristofer Schipper leaves behind his wife Yuan Bingling, their daughter Maya, and his wife and two daughters from a first marriage. The field of Chinese religion has lost a pioneering scholar and an inspiring teacher, those who were privileged to know him and work by his side, a rare friend and colleague.—Franciscus Verellen