A History of Chicago in 10 Books
On March 4, 1837, Chicago was officially incorporated as a city. In the one hundred and eighty-four years since then, the city has grown and changed. On this anniversary of incorporation, we suggest ten books to get to know this complex city a little bit better.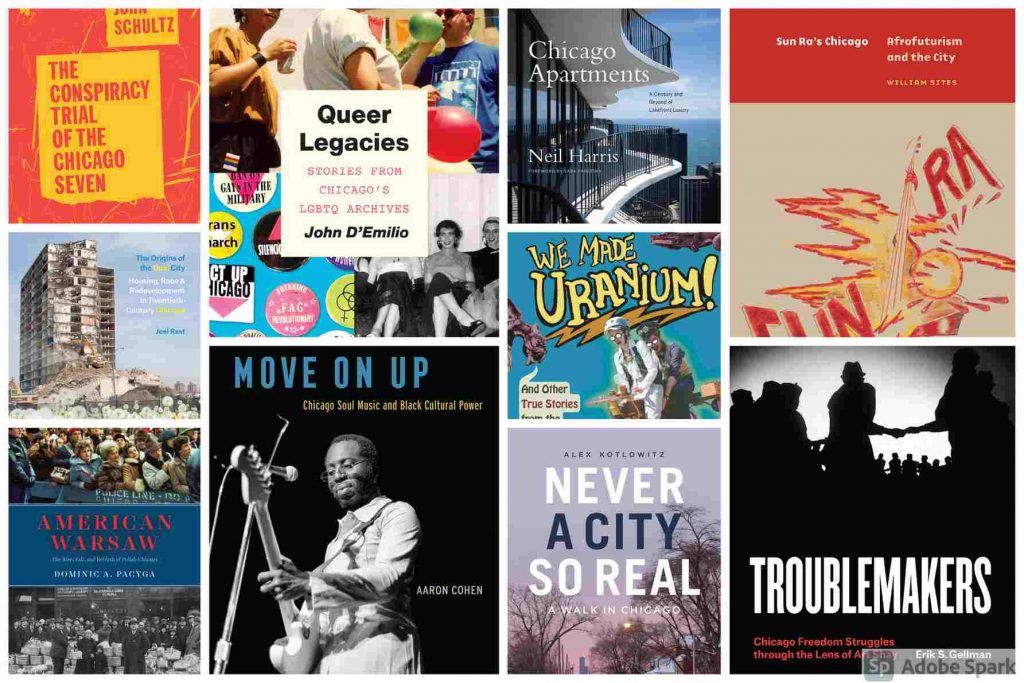 Sun Ra's Chicago: Afrofuturism and the City
In Sun Ra's Chicago, William Sites brings this visionary musician back to earth—specifically to the city's South Side, where from 1946 to 1961 he lived and relaunched his career. The postwar South Side was a hotbed of unorthodox religious and cultural activism: Afrocentric philosophies flourished, storefront prophets sold "dream-book bibles," and Elijah Muhammad was building the Nation of Islam. It was also an unruly musical crossroads where the man then known as Sonny Blount drew from an array of intellectual and musical sources—from radical nationalism, revisionist Christianity, and science fiction to jazz, blues, Latin dance music, and pop exotica—to construct a philosophy and performance style that imagined a new identity and future for African Americans. Sun Ra's Chicago shows that late-twentieth-century Afrofuturism emerged from a deep, utopian engagement with the city—and that by excavating the postwar black experience of Sun Ra's South Side milieu, we can come to see the possibilities of urban life in new ways.
The Conspiracy Trial of the Chicago Seven
The Conspiracy Trial of the Chicago Seven is an electrifying account of the months-long trial that commanded the attention of a divided nation. John Schultz, on assignment for The Evergreen Review, witnessed the whole trial of the Chicago Seven, from the jury selection to the aftermath of the verdict. In his vivid account, Schultz exposes the raw emotions, surreal testimony, and judicial prejudice that came to define one of the most significant legal events in American history.
Chicago Apartments: A Century and Beyond of Lakefront Luxury
The Chicago lakefront is one of America's urban wonders. The ribbon of high-rise luxury apartment buildings along the Lake Michigan shore has few, if any, rivals nationwide for sustained architectural significance. This historic confluence of site, money, style, and development lies at the heart of the updated edition of Neil Harris's Chicago Apartments: A Century and Beyond of Lakefront Luxury. The book features more than one hundred buildings, stretching from south to north and across more than a century, each with its own special combination of design choice, floor plans, and background story. Harris, with the assistance of Teri J. Edelstein, proves to be an affable and knowledgeable tour guide, guiding us through dozens of buildings, detailing a host of inimitable development histories, design choices, floor plans, and more along the way. Of particular note are recent structures on the Chicago River and south of the Loop that are proposing new definitions of comfort and extravagance.
Troublemakers: Chicago Freedom Struggles Through the Lens of Art Shay
In dialogue with 275 of Art Shay's photographs, Erik S. Gellman takes a new look at major developments in postwar US history: the Second Great Migration, "white flight," and neighborhood and street conflicts, as well as shifting party politics and the growth of the carceral state. The result is a visual and written history that complicates—and even upends—the morality tales and popular memory of postwar freedom struggles.
We Made Uranium!: And Other True Stories from the University of Chicago's Extraordinary Scavenger Hunt
The University of Chicago's annual Scavenger Hunt (or "Scav") is one of the most storied college traditions in America. We Made Uranium! shares the stories behind Scav, told by participants and judges from the hunt's more than thirty-year history. The twenty-three essays range from the shockingly successful (a genuine, if minuscule, nuclear reaction created in a dorm room) to the endearing failures (it's hard to build a carwash for a train), and all the chicken hypnotisms and permanent tattoos in between. Taken together, they show how a scavenger hunt once meant for blowing off steam before finals has grown into one of the most outrageous annual traditions at any university. The tales told here are absurd, uplifting, hilarious, and thought-provoking—and they are all one hundred percent true.
The Origins of the Dual City: Housing, Race, and Redevelopment in Twentieth-Century Chicago
In this book, Joel Rast reveals that today's tacit acceptance of rising urban inequality is a marked departure from the past. For much of the twentieth century, a key goal for civic leaders was the total elimination of slums and blight. Yet over time, as anti-slum efforts faltered, leaders shifted the focus of their initiatives away from low-income areas and toward the upgrading of neighborhoods with greater economic promise. As misguided as postwar public housing and urban renewal programs were, they were born of a long-standing reformist impulse aimed at improving living conditions for people of all classes and colors across the city—something that can't be said to be a true priority for many policymakers today. The Origins of the Dual City illuminates how we normalized and became resigned to living amid stark racial and economic divides.
Move On Up: Chicago Soul Music and Black Cultural Power
In Move On Up, Aaron Cohen tells the remarkable story of the explosion of soul music in Chicago. Together, soul music and black-owned businesses thrived. Record producers and song-writers broadcast optimism for black America's future through their sophisticated, jazz-inspired productions for the Dells and many others. Curtis Mayfield boldly sang of uplift with unmistakable grooves like "We're a Winner" and "I Plan to Stay a Believer." Musicians like Phil Cohran and the Pharaohs used their music to voice Afrocentric philosophies that challenged racism and segregation, while Maurice White of Earth, Wind, and Fire and Chaka Khan created music that inspired black consciousness. Soul music also accompanied the rise of African American advertisers and the campaign of Chicago's first black mayor, Harold Washington, in 1983. This empowerment was set in stark relief by the social unrest roiling in Chicago and across the nation: as Chicago's homegrown record labels produced rising stars singing songs of progress and freedom, Chicago's black middle class faced limited economic opportunities and deep-seated segregation, all against a backdrop of nationwide deindustrialization.
Queer Legacies: Stories from Chicago's LGBTQ Archives
The variety of LGBTQ life in Chicago is too abundant and too diverse to be contained in a single place. But since 1981, the Gerber/Hart Library and Archives has striven to do just that, amassing a wealth of records related to the city's gay, lesbian, bisexual, transgender, and queer-identified people and organizations. In Queer Legacies, John D'Emilio—a pioneering scholar in the field—digs deep into Gerber/Hart's collection to unearth a kaleidoscopic look at the communities built by generations of LGBTQ people. Excavated from one of the country's most important, yet overlooked, LGBTQ archives, D'Emilio's entertaining and enthusiastic essays range in focus from politics and culture to social life, academia, and religion. He gives readers an inclusive and personal look at fifty years of a national fight for visibility, recognition, and equality led by LGBTQ Americans who, quite literally, made history. In these troubled times, it will surely inspire a new generation of scholars and activists.
American Warsaw: The Rise, Fall, and Rebirth of Polish Chicago
With American Warsaw, award-winning historian and Polish American Dominic A. Pacyga chronicles more than a century of immigration, and later emigration back to Poland, showing how the community has continually redefined what it means to be Polish in Chicago. He takes us from the Civil War era until today, focusing on how three major waves of immigrants, refugees, and fortune seekers shaped and then redefined the Polonia. Pacyga also traces the movement of Polish immigrants from the peasantry to the middle class and from urban working-class districts dominated by major industries to suburbia. He documents Polish Chicago's alignments and divisions: with other Chicago ethnic groups; with the Catholic Church; with unions, politicians, and city hall; and even among its own members. And he explores the ever-shifting sense of Polskość, or "Polishness."
Never a City So Real: A Walk in Chicago
The book is a tour of the people of Chicago, those who have been Alex Kotlowitz's guide into this city's – and by inference, this country's – heart. Chicago, after all, is America's city. Kotlowitz introduces us to the owner of a West Side soul food restaurant who believes in second chances, a steelworker turned history teacher, the "Diego Rivera of the projects," and the lawyers and defendants who populate Chicago's Criminal Courts Building. These empathic, intimate stories chronicle the city's soul, its lifeblood.
---
All of these books are available on our website or from your favorite bookseller.