Celebrating Marjorie Perloff's 90th Birthday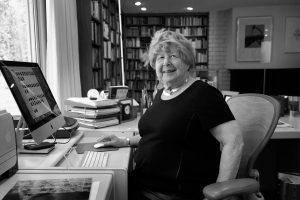 The University of Chicago Press is pleased to celebrate our friend and author Marjorie Perloff today on her 90th birthday. One of the leading scholars of twentieth- and twenty-first-century poetics, Perloff's work has been widely published and translated, and she is a member of the American Academy of Arts and Sciences and the American Philosophical Society. In 2021, she was awarded the highest Austrian award of distinction in culture and sciences, the Austrian Cross of Honor for Science and Art, First Class.
We've been honored to publish several remarkable books with Perloff, including Radical Artifice: Writing Poetry in the Age of Media, Wittgenstein's Ladder: Poetic Language and the Strangeness of the Ordinary, and Unoriginal Genius: Poetry by Other Means in the New Century. Today's celebrations also coincide with the publication of Perloff's latest work—her tenth book with the Press—Infrathin: An Experiment in Micropoetics. In early praise, André Vallias called Infrathin "a gift for lovers of the genre and a must-read for poets."
To celebrate these milestones, we asked the poet Charles Bernstein, one of Marjorie's long-time friends and collaborators, to compose a poem in her honor. A celebrated poet, Bernstein is the winner of Yale University's Bollingen Prize for Poetry and the author of Topsy-Turvy, Near/Miss, Recalculating, and more, all published by the University of Chicago Press.
Happy Birthday, Marjorie!
Go Figure
Translation precedes
poetry. In
other's words
interpretation's not
the end
of criticism
but a
place for
art. Meanings
follow utterance
hoping for
one more
chance at
bat. (Poetry
written as
affirmation will
never acknowledge
apostasy.) Interpretation
like translation
can be
wrong –– but
you won't
know till
the crying
starts. Dark's
part light,
it's just
you can't
see it.
(We keep
reinventing the
wheel because
we're stuck.)
If critics
didn't exist,
we would
have to
invent them.
Piety's impious.
Not agency:
adjacency.
for Marjorie Perloff at 90
—Charles Bernstein
---
Perloff's latest book, Infrathin, is available on our website or from your favorite bookseller.