An Earth Day 2023 Reading List
University Presses like Chicago are committed to making available works that not only keep us informed but also help us to better understand the world and climate around us. To celebrate Earth Day, we have put together a reading list of recent books from Chicago and our client publishers that help illuminate different aspects of our planet. We hope you enjoy this rich collection of reading material—with over thirty books, it's enough to keep you going for all of Earth Month and beyond!
For these and other inspiring recent and upcoming Earth Day titles, please visit our shop at Bookshop.org.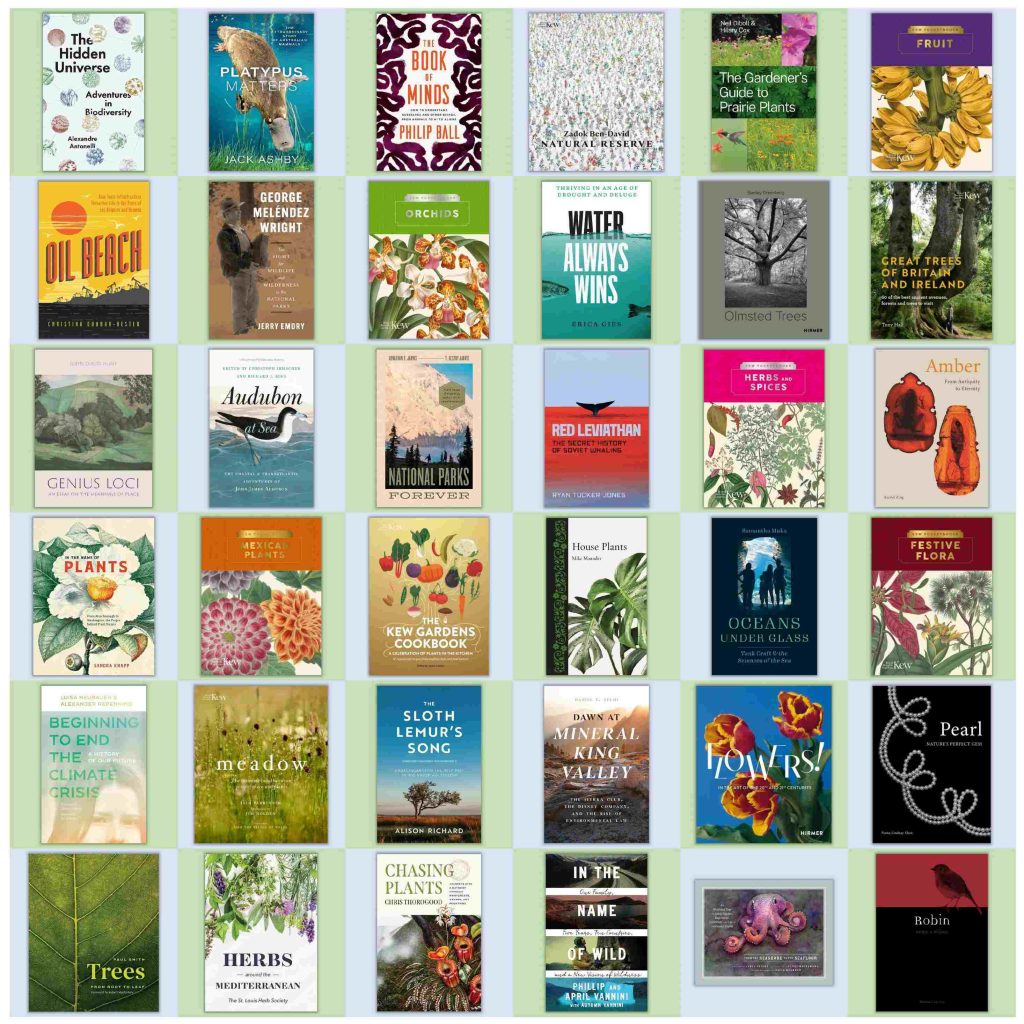 Red Leviathan: The Secret History of Soviet Whaling
Ryan Tucker Jones / (University of Chicago Press)
"Ultimately it wasn't economics or ideology but a growing spotlight on these practices that put an end to the carnage. . . . As whale populations begin to revive, Jones shows the power of a handful of environmental activists on tiny inflatable Zodiac boats, pushing back against a tide of destruction."—Times Literary Supplement
National Parks Forever: Fifty Years of Fighting and a Case for Independence
Jonathan B. Jarvis and T. Destry Jarvis / (University of Chicago Press)
"In this self-described 'dual memoir,' Jonathan and Destry take turns making the case—and then synthesize their viewpoints—that the National Park Service needs to be independent from the political 'whipsaw' of Washington politics, making it more like the Smithsonian Institution. . . . By providing both historical and personal context to the NPS's politicization, the Jarvis brothers make a powerful case."—American Scientist
Water Always Wins: Thriving in an Age of Drought and Deluge
Erica Gies / (University of Chicago Press)
"A fascinating look at the consequences of our attempts to control water in an age of climate instability. Whether we dam, divert, or concrete it over, from the California's Central Valley to Iraq's Mesopotamian Marshes, the results are the same: too much water where we don't want it, not nearly enough where it is needed. Gies makes a persuasive case that to preserve ourselves, we need to consider what water wants."—Chicago Tribune
From the Seashore to the Seafloor: An Illustrated Tour of Sandy Beaches, Kelp Forests, Coral Reefs, and Life in the Ocean's Depths
Janet Voight and Peggy Macnamara / (University of Chicago Press)
"From the Seashore to the Seafloor . . . takes its readers on a watercolor illustrated journey between its title locations of the northeastern Pacific Ocean, blending into its narrative explanations of some of the creatures and systems to be found along the way with exhortations to conserve them."—Well-read Naturalist
The Book of Minds: How to Understand Ourselves and Other Beings, from Animals to AI to Aliens
Philip Ball / (University of Chicago Press)
"Peering into other putative minds—animal, plant, AI, alien—Ball breaks the narcissistic trap of our sapiocentrism, our default assumption that the world is ours first, and only later should we condescend to find a little space for the rest of creation. . . . Ball is the laureate of curiosity and a one-stop source of wisdom. This book will teach you a lot about minds; but it will also make you marvel at the capacious and sagacious one possessed by its author."—Prospect
Dawn at Mineral King Valley: The Sierra Club, the Disney Company, and the Rise of Environmental Law
Daniel P. Selmi / (University of Chicago Press)
"Dawn at Mineral King Valley delivers a fascinating account of how a 1971 Supreme Court decision not only played a key role in the valley's fate but also charted a path for future environmental litigation. . . . Selmi does a fine job of sketching the backstory of what would become a major environmental controversy. . . . Sprinkled with historical gems and gripping storytelling."—Sierra
Platypus Matters: The Extraordinary Story of Australian Mammals
Jack Ashby / (University of Chicago Press)
"Charming, informative. . . . Ashby's intoxication with Australia's mammals makes for a marvelous read. . . . Platypus Matters is full of astonishing facts that are certain to have you thinking differently about Australia's unique mammalian fauna and on occasion questioning the wisdom of the evolutionary process."—Tim Flannery, New York Review of Books
The Sloth Lemur's Song: Madagascar from the Deep Past to the Uncertain Present
Alison Richard / (University of Chicago Press)
"Brilliant. . . . This is simply a wonderful book. Richard tells Madagascar's often improbable history with vivid detail and personal story based on her research, all backed up with the latest scientific thinking. . . . Whether she's telling the improbable story of how lemurs arrived on an island, or explaining why grasslands are not necessarily a sign of deforestation, you will enjoy the stories so much you may not notice that your world is expanding. As all great books should do."—Nature Conservancy's "Cool Green Science"
Mike Maunder / (Reaktion Books)
"I thought that there was no such thing as a 'house plant': There were just plants —some of which had been brought from the wild into the home. How wrong was I? Very wrong, as Maunder makes abundantly clear in his superb book . . . Intelligently and well-written, it's an important read—a 'must-read' even [not too soon to begin a Christmas reading list . . . ?]—for any and all who have an interest in people's relationships with plants in the home environment."—Botany One
Audubon at Sea: The Coastal and Transatlantic Adventures of John James Audubon
Edited by Christoph Irmscher and Richard J. King, With a Foreword by Subhankar Banerjee / (University of Chicago Press)
"In a new selection of John James Audubon's oceangoing writings, we sense his obsessive quest to draw every bird he saw, even though he disliked being on the water. . . . Audubon at Sea . . . asks us to imagine this landsman 'challenged, on a deeply existential level, by an environment where he couldn't rely on the instincts that normally made him such an effective observer and hunter of birds.' The focus is on Audubon as writer as much as artist, and the effect is strange and powerful. . . . Captivating reading."—Jenny Uglow, New York Review of Books
Flowers!: In the Art of the 20th and 21st Centuries
Edited by Regina Selter and Stefanie Weißhorn-Ponert / (Hirmer Publishers)
As the epitome of natural beauty and earthly mortality since the Baroque era, flowers remain an object of fascination for artists in the twentieth and twenty-first centuries, serving as a symbol for love and life as well as for decay and destruction. This volume features more than one hundred and twenty works in a variety of media, including painting, photography, video, and installation.
Olmsted Trees: Stanley Greenberg
Text by Tom Avermaete, Kevin Baker, and Mindy Fullilove / (Hirmer Publishers)
"Olmsted Trees, by the photographer Stanley Greenberg, celebrates bark that resembles barnacles, lizard skin, or cooled lava. . . . Torqued trunks have knobs and cavities that evoke human eyes and animal snouts, while roots bulge like giant paws kneading the earth. The trees shrug off signs of human intervention, dwarfing fencing and playground equipment, and appearing unfazed by carvings of lovers' initials."—New York Times
The Kew Gardens Cookbook: A Celebration of Plants in the Kitchen
Edited by Jenny Linford / (Royal Botanic Gardens, Kew)
"Linford has done a wonderful job, finding recipes that are varied and inviting; this is a true cook's celebration of vegetables and fruits, in recognition of, and support for, the valuable work done by the great botanical gardens at Kew. The recipes themselves are vegetarian (almost half are vegan) and all of them made me impatient to cook!"—Nigella Lawson, nigella.com
Royal Botanic Gardens, Kew / (Royal Botanic Gardens, Kew)
This stunning series of pocketbooks from Kew offers a snapshot into the diverse and beautiful world of plants and fungi. Each book lavishly showcases choice examples from different groups or collections. Over the past year, Kew has published a beautiful quintet sure to delight any gardener or art lover: Festive Flora, Fruit, Herbs and Spices, Michael F. Fay's Orchids, and Bryony Langley's Mexican Plants.
Zadok Ben-David / (Royal Botanic Gardens, Kew)
"Sprawling, ecologically diverse. . . . Containing upwards of 17,000 steel-etched botanicals, the ['Blackfield'] installation considers the precarious line between life and death and how a small shift in perspective can inspire oppositional feelings of either loss or hope. 'The relationship between humanity and nature is one which is central to my work. I have always been fascinated by the idea of how humans rely on nature for survival yet seem to forget this essential fact in everyday life,' the Israeli artist says."—Colossal
Great Trees of Britain and Ireland: 60 of the Best Ancient Avenues, Forests and Trees to Visit
Tony Hall / (Royal Botanic Gardens, Kew)
"Royal Botanic Gardens, Kew arboretum manager Hall profiles over seventy of our most majestic trees, avenues and forests in this beautifully photographed book. Explore remnants of the Caledonian Forest in the Highlands, learn about the ancient yew growing in the cloister of Ireland's Muckross Abbey, and discover Welsh oaks that witnessed twelfth-century battles."—BBC Countryfile
The Hidden Universe: Adventures in Biodiversity
Alexandre Antonelli / (University of Chicago Press)
"[An] impassioned debut. Through research and globe-trotting anecdotes, Antonelli seeks to answer 'big questions about the origins and evolution of whole ecosystems. . . and how biodiversity has changed, and continues to change.' Along the way, the author gives readers glimpses into ecosystems teeming with diverse life. . . . This timely appreciation of Earth's varied life forms delivers."—Publishers Weekly
Chasing Plants: Journeys with a Botanist through Rainforests, Swamps, and Mountains
Chris Thorogood / (University of Chicago Press)
"Chasing Plants promises to propel the reader through rainforests, swamps, and mountains in pursuit of Earth's vegetal wonders. What's more, Thorogood supplements these death-defying adventures with his own wonderful illustrations and paintings."—Simon Ings, New Scientist, Best Books of 2022
In the Name of Plants: From Attenborough to Washington, the People behind Plant Names
Sandra Knapp / (University of Chicago Press)
"Charming. . . . Some of these essays, which span both the globe and history, center on legacy figures, such as Darwin and Sequoia. Others are surprising (Lady Gaga has a fern named after her!) or strive to correct historical inaccuracies and erasures. But the book isn't just an elegant reference text. It's a reminder that the methods we use to classify things are inseparable from who we are."—Scientific American
Paul Smith, With a Foreword by Robert Macfarlane / (University of Chicago Press)
"Dendrites, the branched extensions of nerve cells, are named after the Greek dendron, or 'tree.' 'We think with trees,' says the foreword to this engaging, enchantingly illustrated global study by plant ecologist and conservationist Smith, organized by life cycle into sections from 'Seeds' to 'Fruits,' including art and architecture."—Nature
In the Name of Wild: One Family, Five Years, Ten Countries, and a New Vision of Wildness
Phillip Vannini and April Vannini with Autumn Vannini / (University of British Columbia Press/On Point Press)
"What do the words 'wild,' 'wildness,' and 'wilderness' mean to you? . . . The Vanninis' findings are surprising and thought-provoking. . . . This entertaining and educational book takes along not only the family but readers too. . . . You can enjoy the journey, ponder and philosophize, and then decide what your answer might be."—BC BookWorld
Amber: From Antiquity to Eternity
Rachel King / (Reaktion Books)
"This generously illustrated volume charts amber's enduring sensory appeal and its profound influence on mythology, religion, politics, science, and the arts. Scientific and technological background provide essential context. . . . [Synthesizes] an impressive range of historical and modern sources, primarily European, but encompassing Asia, Africa, and the Americas. . . . [King] displays a particular knack for sharing memorable stories."—Booklist
Helen F. Wilson / (Reaktion Books)
"Everyone's favorite garden bird is celebrated and explored in this wide-ranging, superbly illustrated volume. Taking in both natural and cultural histories, Robin addresses questions including why the bird's name has traveled around the world and why it has a reputation for melancholy."—BBC Wildlife
Fiona Lindsay Shen / (Reaktion Books)
"Tracing the pearl's first appearance to the Paleozoic Era—some 530 million years ago, when mollusks first came on the scene—Shen combines scientific facts with cultural references to help the reader appreciate the scope of the gem's influence. From Cleopatra to Coco Chanel to Elizabeth Taylor, from a Vermeer painting to a John Steinbeck novel to a Federico Fellini quote, the pearl has been fascinating humanity for millennia."—Jewelry Connoisseur
Genius Loci: An Essay on the Meanings of Place
John Dixon Hunt / (Reaktion Books)
"A miscellany of thoughtful reflections. . . . A potpourri. . . . Torcello is seen through the eyes of Ruskin; the spirit of place is sought in the paintings of Turner and the Nash brothers. . . . Another chapter ranges through the travel writing of Henry James, D. H. Lawrence, Ford Madox Ford, Lawrence Durrell, and Paul Theroux. . . . Among the book's successes are treatments of the High Line in New York and the reimagining of dead industrial spaces in the architecture of Peter and Anneliese Latz."—Times Literary Supplement
Oceans under Glass: Tank Craft and the Sciences of the Sea
Samantha Muka / (University of Chicago Press)
"Muka uses the tools of both historian and sociologist . . . following patents, mentions, and citations through scientific and hobbyist literature. She also shadows and interviews practitioners in various aquarium settings to uncover the wide array of contributors to marine-biological knowledge production. . . . The result provides a fascinating and thoughtful elucidation of the history of aquariums as an environmental technology and of public aquarists as 'knowledge couriers' between communities."—Science
Oil Beach: How Toxic Infrastructure Threatens Life in the Ports of Los Angeles and Beyond
Christina Dunbar-Hester / (University of Chicago Press)
"California has long been a byword for the clash between the environment and capitalism. Science and technology studies scholar Dunbar-Hester investigates Long Beach near Los Angeles: a hub for petroleum shipping and refining, and a world-leading container-shipping port, but also a wetland area full of wildlife. Focusing on cetaceans, bananas, sea birds, and otters, her informed interdisciplinary study considers how to avoid toxic tension between biodiversity and capital accumulation."—Nature
Meadow: The Intimate Bond between People, Place and Plants
Iain Parkinson, With Photography by Jim Holden / (Royal Botanic Gardens, Kew)
"This delightfully colorful book on meadows is not simply literary 'wallpaper.'. . . Each chapter is written by an expert in their field and the book provides an array of lovely personal reflections from artists, scientists, crafts people, and land managers. . . . Meadow quite simply inspires and informs."—Garden
Herbs around the Mediterranean
St. Louis Herb Sociey / (Missouri Botanical Garden Press)
"What could be a simple field guide is instead an illuminating catalog of botanical and historical information, neatly organized and packed with beautiful photography and illustrations. . . . An excellent source for cooks, gardeners, and historians."—St. Louis Magazine
The Gardener's Guide to Prairie Plants
Neil Diboll and Hilary Cox / (University of Chicago Press)
"Natural-lawn enthusiasts will rejoice at this incredibly thorough volume about native prairie plants. Prairie Nursery president/consulting ecologist Diboll and landscape designer/botanist/photographer Cox provide charts that detail what botanists and science-savvy gardeners need to know as they explore and plan a prairie garden. . . . An excellent addition to any library, this plant guide will prove to be a lasting resource for gardeners and nature lovers."—Library Journal
Beginning to End the Climate Crisis: A History of Our Future
Luisa Neubauer and Alexander Repenning, With a Foreword by Bill Mckibben / (Brandeis University Press)
"Neubauer and Repenning show just how hard young people, who will pay the highest price if climate change goes unaddressed, are fighting to affect international political agendas. . . . They personalize the fight for climate justice, discussing how they first became aware of the climate crisis and showing how they got involved, encouraging people to 'stop making the same mistakes over and over again.' . . . Beginning to End the Climate Crisis acknowledges the challenge of affecting long-term change, but says that it's important to keep trying."—Foreword Reviews
George Meléndez Wright: The Fight for Wildlife and Wilderness in the National Parks
Jerry Emory / (University of Chicago Press)
"Emory's enumeration of Wright's accomplishments—including a survey of wildlife in Western parks, the first of its kind—is nothing short of awe-inspiring. Emory, who is married to one of Wright's granddaughters, has succeeded admirably in demonstrating the continuing relevance of Wright's ideas and the value of his legacy. Highly recommended for nature lovers and park enthusiasts."—Library Journal