What to Read for National Hispanic Heritage Month
To celebrate National Hispanic Heritage Month, we've put together a reading list highlighting the arts and lives of Hispanic individuals from a range of counties and traditions. With these books, you can explore the work of a brilliant Mexican painter, experimental Latin-American poetry, the life of a visionary biologist who revolutionized the National Park Service, and much more. This month, enjoy 40% off these print and e-books using the code HISPANICHERITAGE on our website.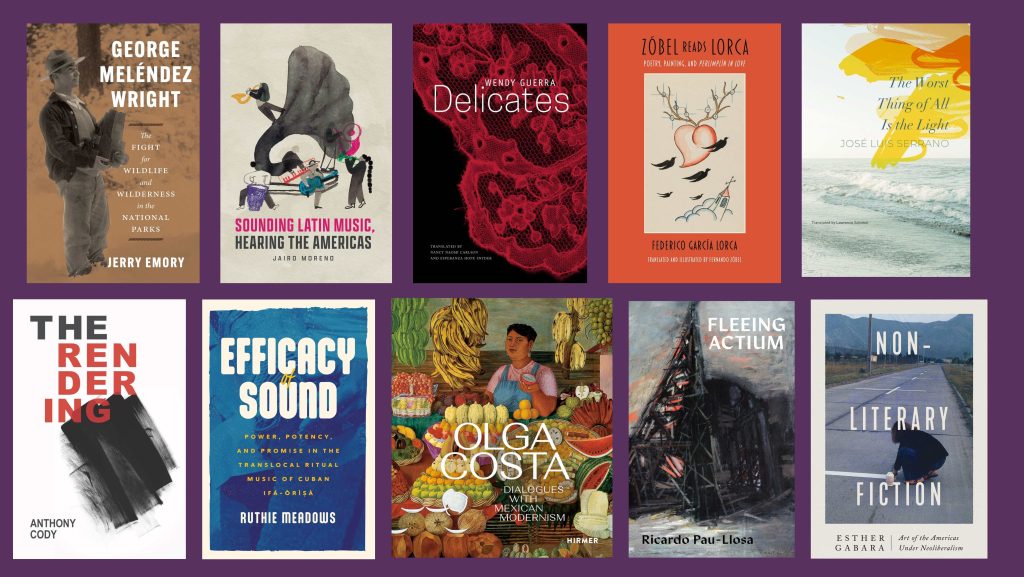 George Meléndez Wright: The Fight for Wildlife and Wilderness in the National Parks
By Jerry Emory
"In George Meléndez Wright, Emory grants Wright the well‑deserved credit he is due. Part biography, part historical account, the book reads like a love letter to Wright."—Sierra, "5 Must‑Read Books for Your Spring Reading List"
Sounding Latin Music, Hearing the Americas
By Jairo Moreno
"This is a powerful, insightful, and enlightening book by a major thinker in his field with an impressive command of the literature and musical repertoire of Latin America as well as Latinos in the United States. Moreno writes consciously as an intellectual 'migrant' at the crossroads of music studies, Latin American studies, cultural studies, and American studies."—Timothy Brennan, University of Minnesota
Efficacy of Sound: Power, Potency, and Promise in the Translocal Ritual Music of Cuban Ifá Òrìsà
By Ruthie Meadows
"Meadows significantly expands our understanding of Afro‑Cuban religious music and its ever‑changing manifestations. Her exploration of ritual music associated with divination across the island, her focus on transatlantic religious dialogues between Nigeria and Cuba, her emphasis on the contested nature of religious orthodoxy, and her close attention to the struggles of women all represent major contributions."—Robin Moore, The University of Texas at Austin
Non literary Fiction: Art of the Americas under Neoliberalism
By Esther Gabara
"A must-read for anyone interested in new critical terms for studying how artistic form and thought have engaged the violence of a prevailing social order."—Chon Noriega, Distinguished Professor, UCLA
From Seagull Books
The Worst Thing of All Is the Light
By José Luis Serrano, Translated by Lawrence Schimel
This novel tells two stories. The first is the story of Koldo and Edorta—two men who are in love and don't know it, or don't want to know it. The second story is that of its author, José Luis Serrano, who talks with his husband at length about how to narrate the relationship of these two protagonists who did not allow themselves to construct the domestic life that their counterparts enjoy today.
By Wendy Guerra, Translated by Nancy Naomi Carlson and Esperanza Hope Snyder
"Guerra boldly rifts and morphs her imagery on her way to dramatic endings in poems ranging from the volcanic sex of 'From Pompeii' to other intimate and political exiles. The result is a restless and provocative interrogation of power."—LitHub
From Swan Isle Press
By Luis García Montero, Translated by Katie King
"Montero offers us a coming‑of‑age story in which León grows intellectually, erotically, and politically. At the same time Spain, in the clutches of a repressive dictatorship and still suffering the aftermath of a brutal civil war, is also coming of age in its struggle toward democracy."—Anthony Geist, translator of Rafael Alberti's Roma, peligro para caminantes
Zóbel Reads Lorca: Poetry, Painting, and Perlimplín In Love
By Federico García Lorca, Translated and Illustrated by Fernando Zóbel
Painting, poetry, and music come together in Zóbel Reads Lorca, as Zóbel, a Harvard student who would become one of Spain's most famous painters, translates and illustrates Federico García Lorca's haunting play about the wounds of love.
From Carnegie Mellon University Press
By Ricardo Pau Llosa
"The poet as Caravaggio, soaring the heights and depths of lighting, the shadows and the dark. Fleeing Actium is verse at its most thoughtful and entertaining."—Robert Nazarene, founding editor, The American Journal of Poetry
"Pau‑Llosa, one of the finest poets and thinkers of our age, is at the height of his talents in Fleeing Actium."—Adam Vines, author of Lures
From Omnidawn
By Anthony Cody
"The dazzling graphic and concrete sensibility of the poet's earlier work remains, yet here Cody intervenes upon photos, maps, charts, graphs, and field recordings, producing an autoethnographic score of settler (and displaced) histories."—The Latinx Project
"In this exciting work, history, imagination, criticism, and wonder share the page, modeling a new way of being in conversation with the world."—Publishers Weekly, starred review
From Hirmer Publishers
Olga Costa: Dialogues with Mexican Modernism
Edited by Sabine Hoffmann and Stefan Weppelmann
Costa and her husband, José Chávez Morado, were both painters who actively promoted the work of other artists, playing an integral role in Mexico's vibrant art scene. In a community of mostly men, Costa's examination of questions of cultural identity and feminism distinguished her work, making her one of the most important women artists in the circle surrounding Frida Kahlo.
---
Find these and other related books on our website or at your favorite bookseller.