Susannah Heschel in Newsweek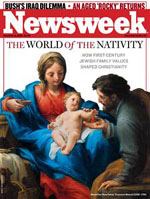 "The first Christians were Jews, and thought of themselves as Jews; it is therefore impossible to understand Christianity without tracing its Judaic roots" writes Chicago author Susannah Heschel in her essay for the December 18 edition of Newsweek. Herschel's essay, just in time for the holiday season, stresses the influence of the Jewish nativity of Jesus and "the Jewish values of education and social responsibility that his parents inculcated in him" in shaping the contemporary values held by much of the western world today.
Heschel's essay is part of the Newsweek holiday season cover story on understanding the world of the nativity: the moral and religious world into which Jesus was born and raised.
Heschel is the Eli Black Chair of Jewish Studies at Dartmouth College and the author of Abraham Geiger and the Jewish Jesus.