The Great Chicago Book Sale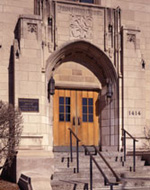 The University of Chicago Press announces its first public book sale in over twenty years. For two days only—Tuesday, October 7 and Wednesday, October 8—the University of Chicago Press will sell hundreds of different titles at incredibly deep discounts.
The sale will run from 9 AM until 5 PM on Tuesday and Wednesday, in the International House's Assembly Hall on the University of Chicago campus (1414 E. 59th Street, Dorchester Avenue entrance). Over 10,000 books in a variety of subjects—from anthropology to poetry to zoology—will be available for purchase. With both hardcovers and paperbacks priced at only five dollars each, this is a one-of-a-kind opportunity to stock your personal library—or find some unusual gifts for the holiday season. From reference guides to contemporary bestsellers, Beethoven to Mike Royko, this book sale will offer something for everyone. Supplies are limited, so be sure to arrive early for the best selection.
Read the press release.