A new fiction imprint from Northern Illinois University Press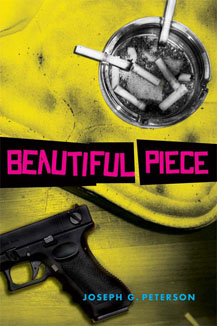 Good news from the world of publishing isn't easy to come by, so a new outlet for Midwestern writers of literary fiction is a welcome development. Thus we tip our collective hats to our good friends at Northern Illinois University Press and their new imprint Switchgrass Books, which debuts with Season of Water and Ice by Michigan writer Donald Lystra and Beautiful Piece by Joseph G. Peterson, who we are pleased to count a colleague here at the Press.
Set somewhere in Chicago during the 1995 Chicago heat wave, Peterson's noirish novel is the gritty, hallucinatory story of a risky relationship and its inevitable, chilling climax. Meanwhile, Lystra's book tracks the life of young Danny DeWitt and his father as they struggle with issues of love and family in rural northern Michigan in the 1950's. Set side by side Switchgrass's inaugural releases represent the rich diversity of the Midwestern literary landscape and the hidden talent lurking there.
To find out more about Switchgrass books navigate to their website or listen to this recent interview with NIU press director Alex Schwartz talking about the new imprint and it's first two releases on Chicago Public Radio's Eight Forty-Eight.
Our warm congratulations.