Mourning Elizabeth Taylor

Elizabeth Taylor was the twentieth century's White Diamond—in an age that saw the decline of the Hollywood icon, her violet-eyed takes on high society Angela Vickers, hard-drinking Martha, and unhinged Maggie the Cat channeled pure lady power. It's not surprising that so many felt touched both publicly and privately by the the much-married screen siren, humanitarian, perfume impresario, and perpetual tabloid cover model. Perhaps one of the more interesting elements to explore in the wake of Taylor's death is the outpouring of public grief, from shrines set up at iconic gay bars to violet-hued flowers left on the actress's Hollywood star. We asked Notre Dame professor of American studies Erika Doss, author of Memorial Mania: Public Feeling in America to share her thoughts on what might be behind contemporary culture's memorial obsessions:
Elizabeth Taylor died this past Wednesday (March 23rd), and within hours the public grief industry kicked into full production. Fans gathered around her star on Hollywood Boulevard's Walk of Fame, leaving bouquets of flowers dyed to match her violet-colored eyes. Reporters mobbed them with questions about what Taylor "meant" to them; responses ranged from her "eternal movie star beauty" to her "multiple marriages" (eight in total, twice to Richard Burton) and activism on behalf of AIDS research. Other mourners flocked to the Abbey, a gay bar in West Hollywood where Taylor regularly downed watermelon martinis. A temporary shrine featuring floral wreaths, votive candles, film stills, and other tokens of remembrance was set up in the bar's VIP room; on a nearby table, staffers set aside a Blue Velvet Martini (vodka and blueberry schnapps) in tribute to Taylor's 1944 movie National Velvet. In terms of specific places to grieve, there really wasn't anywhere else for fans to congregate: no Graceland or traumatic death site. The seventy-nine-year-old actress died of congestive heart failure at Cedars-Sinai Medical Center in Los Angeles, and in accordance with personal wishes and Jewish tradition, was buried twenty-four hours later in Forest Lawn Cemetery in a private ceremony attended by her closest friends and family.
Many fans turned to online grief support groups. Internet memorial outfits like "The Eternal Portal," "Respectance," "Valley of Life," "Gone Too Soon," and "Memorial Matters," which offer services ranging from building memorial websites ("simple to create, remember anywhere," fourteen-day no obligation) to selling commemorative products (armbands, candles, balloons, and awareness ribbons personalized with the name of the deceased), saw a flurry of quickly made Elizabeth Taylor tributes. Other stars and celebs paid tribute on Twitter: Elton John, "We have just lost a Hollywood giant. More importantly, we have lost an incredible human being"; Russell Crowe, "R.I.P. Elizabeth Taylor, Goddess"; Kirstie Alley, "Elizabeth . . . thank u for the lessons u taught me about life . . . suffering and Joy . . . you are the BRIGHTEST STAR in the universe. . . Eternal love"; Joan Rivers, "Sad to hear of Elizabeth Taylor's death. She was the 1st major celebrity to join me in the fight against AIDS when it wasn't a popular cause." By Wednesday night, hundreds of thousands of Tweets, Facebook messages, and blog diaries featured the shared sentiment: "R.I.P. Elizabeth Taylor."
Temporary memorials, online shrines, and social networking practices all point to changed understandings—and expectations—of public mourning in America today. The more tragic and traumatic the death, or the more sudden and surprising, the more effusive the public display of grief. When Taylor's good friend Michael Jackson died in July 2009, for example, thousands descended upon the teeny white house in Gary, Indiana where Jackson and his siblings were raised. Dozens of TV crews and reporters set up camp while a steady stream of mourners added teddy bears, condolence cards, and hand-painted pictures of the King of Pop to a sprawling shrine that took up most of the front yard. Fans held candlelight vigils in the street and practiced Moonwalking; neighborhood kids hawked tshirts, CDs, and bottles of water.
For her part, Dame Elizabeth Taylor shrugged off such carnivalesque performances of grief. "I can't be part of the public whoopla," she told one reporter after Jackson died. "I just don't believe that Michael would want me to share my grief with millions of others. How I feel is between us, not a public event." She might have been amused by the very public dimensions of her own passing.
For more of Doss's thoughts on the culture of commemoration and our obsession with issues of memory and history, have a look at Memorial Mania's UCP page here.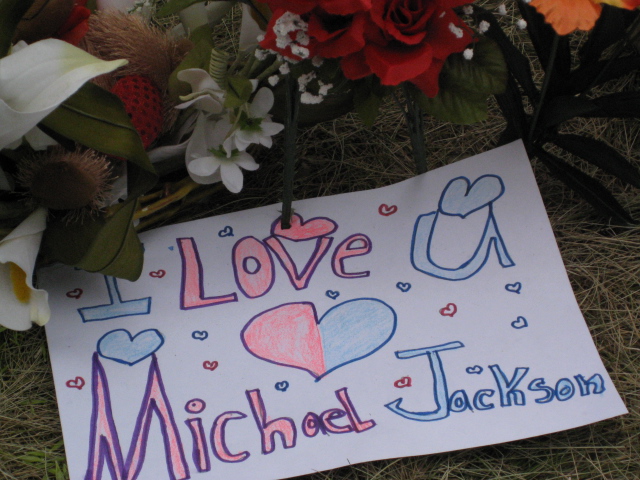 **