Marketing Schools, Marketing Cities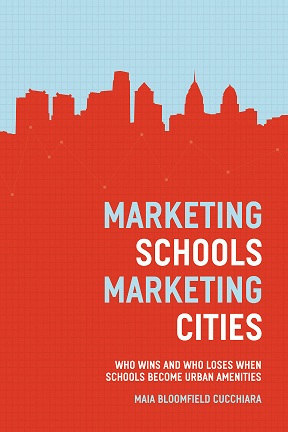 Maia Bloomfield Cucchiara's Marketing Schools, Marketing Cities considers the relationship between private markets and public education by focusing on Philadelphia's Center City Schools Initiative. The Initiative targeted (largely white) middle- and upper-middle class families living in a recently gentrified downtown neighborhood and adopted a slick marketing campaign to convince these residents to elect (and thus, invest in) a series of hand-selected local public elementary schools. Hoping that the Initiative would result in an increase of both property tax revenue and personal investment these schools, proponents saw a viable link between a revitalized downtown and what would become an improved public school system. The problem? The School District of Philadelphia continues to face its worst-ever financial crisis, replete with layoffs, school closures, and program cuts. And those seats in the City Center elementary schools? Turns out they weren't empty. As Cucchiara reports in a piece at the Atlantic drawn from the book's research:
The marketing worked: According to my analysis of School District of Philadelphia data, by 2009 the number of Center City children enrolled in first grade in the three most desirable public schools had increased by 60 percent, from 111 to 177. Through fundraising and the activation of social and professional networks, these new families helped bring resources to the schools, including new playgrounds, libraries, and arts programs. But these Center City children weren't taking empty slots. When they enrolled, they left fewer spots for low-income students from North and West Philadelphia, who had for years used those schools to escape failing ones in their neighborhoods. During this period, the number of first graders in Center City schools from outside the neighborhood decreased by 42 percent, from 64 to 37. Not surprisingly, this shift had racial dimensions: The percentage of white students in these schools in the early grades increased by 30 percent, and the percentage of African American students decreased a corresponding 29 percent.
Cucchiara goes on to address the grounds that on which these issues take root: "Americans have long accepted two aspects of the present education system as a fact of life. First, we are resigned to the idea that urban schools will always have financial struggles. Second, we do not discuss the divisions between city and suburbs." You needn't look far to uncover more of this troubling history: Boston, Chicago, and Detroit are well-evidenced examples. Asking us to question to viability of this institutional wall between city and suburb, Marketing Schools, Marketing Cities points to the problem inherent in funding around this divide: it's fundamentally inequitable and attempting to recruit middle-class families is neither going to solve nor prevent the next public educational crisis.
As the Cucchiara concludes at the Atlantic, "Indeed, by singling out the middle-class for special treatment, they could end up creating even more unequal systems."