Free e-book for January: Murder in Ancient China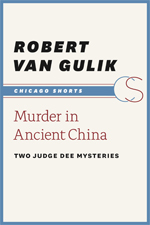 Murder in Ancient China by Robert van Gulik (1910–67), our free e-book for January, helps us launch our latest batch of Chicago Shorts. Part of the Judge Dee mysteries series that orientalist historian and diplomat van Gulik created following a career spent in Allied-occupied Tokyo and Chongqing, China, for the Dutch Foreign Service.
Judge Dee—Confucian Imperial magistrate, inquisitor, and public avenger, based on a famous statesman—was van Gulik's lasting invention. A welcome addition to the elite canon of fictional detectives, the Judge steps in to investigate homicide, theft, and treason, while attempting to restore order to the golden age of the Tang Dynasty. In Murder in Ancient China's first story, Judge Dee attempts to solve the mystery of an elderly poet murdered by moonlight in his garden pavilion; in the second, set on the eve of the Chinese New Year, the Judge makes two rare mistakes—to ambiguous results.
Chicago Shorts, published every four to six months, include never-before-published material, off-the-radar reads culled from the University of Chicago Press's commanding archive, and the best of our newest books, all priced for impulse buying (four titles this season for just $0.99) and presented exclusively in DRM-free e-book format.
To read more about our free ebook of the month program, click here.
To see the full list of titles in the Chicago Shorts series, click here.