Lawrence Summers on House of Debt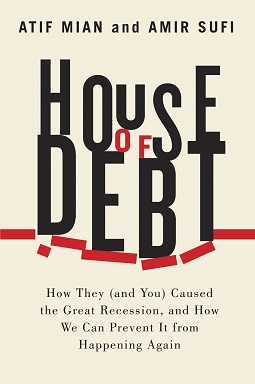 From Lawrence H. Summers, former Secretary of the Treasury and president emeritus of Harvard University, in the Financial Times:
"Atif Mian and Amir Sufi's House of Debt, despite some tough competition, looks likely to be the most important economics book of 2014; it could be the most important book to come out of the 2008 financial crisis and subsequent Great Recession. Its arguments deserve careful attention, and its publication provides an opportunity to reconsider policy choices made in 2009 and 2010 regarding mortgage debt."
House of Debt takes a complicated premise—unraveling the threads of the 2008 financial crisis from a tangle of Federal Reserve policies, insolvent investment banks, predatory mortgage lenders, and private label securities—and delivers a clean-cut conclusion:  the Great Recession and Great Depression, as well as the current economic malaise in Europe, were caused by a large run-up in household debt followed by a significantly large drop in household spending. Recently, in addition to Summers's endorsement in today's Financial Times, the book has been profiled at the New York Times, the Wall Street Journal, the Atlantic, and the Economist, among others; Paul Krugman, writing for the NYT, noted that  its associated House of Debt blog has "instantly become must reading."
How do we move forward and break the cycle? With a direct attack on debt, say Mian and Sufi.  More aggressive debt forgiveness after the crash helps, but as they illustrate, we can be rid of painful bubble-and-bust episodes only if the financial system moves away from its reliance on inflexible debt contracts. 
To follow developments in global policy at the House of Debt blog, click here.
To read more about the book, click here.