World Ocean(s) Day
This past weekend, on June 8th to be exact, the Ocean Project and the World Ocean Network celebrated World Oceans Day. The event recognizes that there is "one world ocean" connecting the planet, and to this end, was known as "World Ocean Day" until 2009, when the "s" was added in accordance with the resolution passed by the United Nations General Assembly, which officially designated the annual date as "World Oceans Day." Even this semantic quandry should evidence the passion yielded by those who champion and protect our hydrosphere—with that in mind, we're revisiting The Deep, a project that launched new endeavors in "tidal" acquisitions for the Press, and has led to a remarkable list in the oceanic sciences (under the helm of Christie Henry, editorial director of the Sciences and Social Sciences).
The Deep explores the deepest realms of the ocean, revealing a cast of more than 200 sometimes terrifying and most mesmerizing creatures in crystalline detail, some photographed for the very first time.  The website associated with the book features an image gallery,an animated sampler, and beautiful pages, including the below profile of the glowing sucker octopus, one of the world's few bioluminescent creatures, native to the North Atlantic: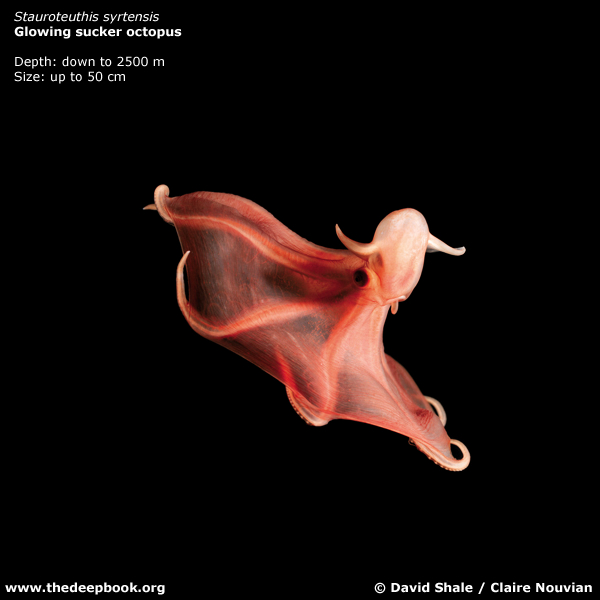 In the wake of The Deep (pun intended), Chicago's recent books that focus on oceans and the life thriving within them include:
Billion-Dollar Fish: The Untold Story of Alaska Pollock by Kevin M. Bailey
Swordfish: A Biography of the Ocean Gladiator by Richard Ellis
Stung!: On Jellyfish Blooms and the Future of the Ocean by Lisa-ann Gershwin
Science on Ice: Four Polar Expeditions by Chris Linder
Seasick: Ocean Change and the Extinction of Life on Earth by Alana Mitchell
Among Giants: A Life with Whales by Charles "Flip" Nicklin
Sharks and People: Exploring Our Relationship with the Most Feared Fish in the Sea by Thomas M. Peschak
Chasing Science at Sea: Racing Hurricanes, Stalking Sharks, and Living Undersea with Ocean Experts by Ellen Prager
Sex, Drugs, and Sea Slime: The Oceans' Oddest Creatures and Why They Matter by Ellen Prager
Oceans: A Scientific American Reader
To read more about our lists in the biological sciences, click here.
To read more about our lists in ecology and environment, click here.