Citizen: Jane Addams and the labor movement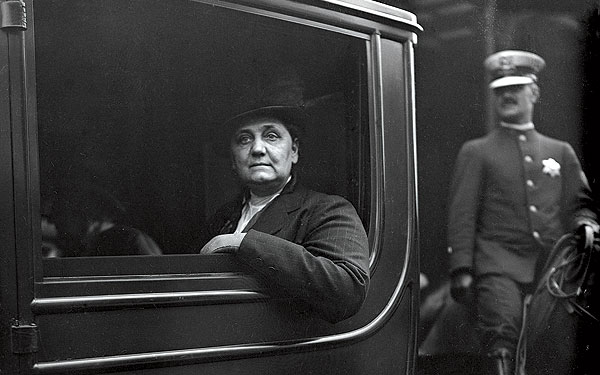 On this day in 1931, Jane Addams became the first woman to win the Nobel Peace Prize. Read an excerpt from Louise W. Knight's Citizen: Jane Addams and the Struggle for Democracy, about the ethics and deeply held moral beliefs permeating the labor movement—and Addams's own relationship to it—after the jump.
***
From Chapter 13, "Claims" (1894)
On May 11 Addams, after giving a talk at the University of Wisconsin and visiting Mary Addams Linn in Kenosha, wrote Alice that their sister's health was improving. The same day, a major strike erupted at the Pullman Car Works, in the southernmost part of Chicago. The immediate cause of the strike was a series of wage cuts the company had made in response to the economic crisis. Since September the company had hired back most of the workers it had laid off at the beginning of the depression, but during the same period workers' wages had also fallen an average of 30 percent. Meanwhile, the company, feeling pinched, was determined to increase its profits from rents. In addition to the company's refusing to lower the rent rate to match the wage cuts, its foremen threatened to fire workers living outside of Pullman who did not relocate to the company town. The result was that two-thirds of the workforce was soon living in Pullman. By April, many families were struggling to pay the rents and in desperate straits; some were starving. The company's stance was firm. "We just cannot afford in the present state of commercial depression to pay higher wages," Vice President Thomas H. Wickes said. At the same time, the company continued to pay its stockholders dividends at a the rate of 8 percent per annum, the same rate it had paid before the depression hit.
The workers had tried to negotiate. After threatening on May 5 to strike if necessary, leaders of the forty-six-member workers' grievance committee met twice with several company officials, including, at the second meeting, George Pullman, the company's founder and chief executive, to demand that the company reverse the wage cuts and reduce the rents. The company refused, and on May 11, after three of the leaders of the grievance committee had been fired and a rumor had spread that the company would lock out all employees at noon, twenty-five hundred of the thirty-one hundred workers walked out. Later that day, the company laid off the remaining six hundred. The strike had begun. "We struck at Pullman," one worker said, "because we were without hope."
For Addams, the coincidental timing of the strike and Mary's illness, both of which would soon worsen, made each tragedy, if possible, a greater sorrow. The strike was a public crisis. Its eruption raised difficult questions for Addams about the ethics of the industrial relationship. What were George Pullman's obligations to his employees? And what were his employees' to him? Was it disloyal of him to treat his workers as cogs in his economic machine? Or was it disloyal of his workers to strike against an employer who supplied them with a fine town to live in? Who had betrayed whom? Where did the moral responsibility lie? Mary's illness was Addams's private crisis. Mary was the faithful and loving sister whose affection Addams had always relied on and whose life embodied the sacrifices a good woman made for the sake of family. Mary had given up her chance for further higher education for her family's sake and had been a devoted wife to a husband who had repeatedly failed to support her and their children. The threat of her death stirred feelings of great affection and fears of desperate loss in Addams.
As events unfolded, the two crises would increasingly compete for Addams's loyalty and time. She would find herself torn, unsure whether she should give her closest attention to her sister's struggle against death or to labor's struggle against the capitalist George Pullman. It was a poignant and unusual dilemma; still, it could be stated in the framework she had formulated in "Subjective Necessity": What balance should she seek between the family and the social claim?
The causes of the Pullman Strike went deeper than the company's reaction to the depression. For the workers who lived in Pullman, the cuts in wages and the high rents of 189394 were merely short-term manifestations of long-term grievances, all of them tied to company president George Pullman's philosophy of industrial paternalism. These included the rules regarding life in Pullman, a privately owned community located within the city of Chicago. Pullman had built the town in 1880 to test his theory that if the company's workers lived in a beautiful, clean, liquor- and sin-free environment, the company would prosper. Reformers, social commentators, and journalists across the country were fascinated by Pullman's "socially responsible" experiment. Addams would later recall how he was "dined and feted throughout Europe . . . as a friend and benefactor of workingmen." The workers, however, thought the Pullman Company exercised too much control. Its appointees settled community issues that elsewhere would have been dealt with by an elected government, company policy forbade anyone to buy a house, the town newspaper was a company organ, labor meetings were banned, and company spies were everywhere. Frustrated by this as well as by various employment practices, workers organized into unions according to their particular trades (the usual practice), and these various unions repeatedly struck Pullman Company in the late 1880s and early 1890s. The May 1894 strike was the first that was companywide.
Behind that accomplishment lay the organizing skills of George Howard, vice president of the American Railway Union (ARU), the new cross-trades railroad union that Eugene Debs, its president, had founded the previous year. To organize across trades was a bold idea. Howard had been in Chicago since March signing up members, and by early May he was guiding the workers in their attempted negotiations with the company. The ARU's stated purpose was to give railroad employees "a voice in fixing wages and in determining conditions of employment." Only one month earlier it had led railroad workers at the Great Northern Railroad through a successful strike. Thanks to the ARU as well as to the mediating efforts of some businessmen from St. Paul, Minnesota, voluntary arbitration had resolved the strike, and three-fourths of the wage cut of 30 percent had been restored. Impressed, 35 percent of Pullman's workers joined the ARU in the weeks that followed, hoping that the new union could work the same magic on their behalf.
At first, the prospects for a similar solution at Pullman did not look promising. After the walkout, George Pullman locked out all employees and, using a business trip to New York as his excuse, removed himself from the scene. Meanwhile, a few days after the strike began, Debs, a powerful orator, addressed the strikers to give them courage. He had the rare ability to elevate a controversy about wages into a great moral struggle. The arguments he used that day, familiar ones in the labor movement, would be echoed in Jane Addams's eventual interpretation of the Pullman Strike. "I do not like the paternalism of Pullman," he said. "He is everlastingly saying, what can we do for the poor workingmen? . . . The question," he thundered, "is what can we do for ourselves?"
At this point, the Civic Federation of Chicago decided to get involved. Its president, Lyman Gage, an enthusiast for arbitration, appointed a prestigious and diverse conciliation board to serve as a neutral third party to bring the disputing sides before a separate arbitration panel. Made up partly of members of the federation's Industrial Committee, on which Addams sat, it was designed to be representative of various interests, particularly those of capital, labor, academia, and reform. It included bank presidents, merchants, a stockbroker, an attorney, presidents of labor federations, labor newspaper editors, professors, and three women civic activists: Jane Addams, Ellen Henrotin, and Bertha Palmer.
The board divided itself into five committees. In the early phase of the strike it would meet nightly, in Addams's words, to "compare notes and adopt new tactics." Having had some success in arranging arbitrations in the Nineteenth Ward, Addams was eager to see the method tried in the Pullman case. She would soon emerge as the driving force and the leading actor in the initiative.
The first question the board discussed was whether the Pullman workers wanted the strike to be arbitrated. Addams investigated the question by visiting the striking workers in Pullman, eating supper with some of the women workers, touring the tenement housing, and asking questions. Afterwards, she asked the president of the local ARU chapter, Thomas Heathcoate, and ARU organizer George Howard to allow the conciliation board to meet with the Strike Committee. Refusing her request, Howard told her that the ARU was willing to have the committee meet with the board but that first the Pullman Company would have to state its willingness to go to arbitration.
Meanwhile, three men from the conciliation board were supposed to try to meet with the Pullman Company. The board's president, A. C. Bartlett, a businessman, was to arrange the meeting but, as of May 30, two weeks into the strike, he had done nothing. Frustrated, Addams stepped in. On June 1 she arranged for Bartlett, Ralph Easley (the Civic Federation's secretary), and herself to meet with Vice President Wickes and General Superintendent Brown. At the meeting, which Bartlett failed to attend, Wickes merely repeated the company's well-known position: that it had "nothing to arbitrate."
Thwarted, Addams decided, with the board's support, to try again to arrange for the board to meet with the Strike Committee. At a Conciliation Board meeting, Lyman Gage suggested that she propose that rent be the first issue to be arbitrated. Agreeing, Addams decided that, instead of taking the idea to the uncooperative Howard, she would take it over his head to Debs. Persuaded by Addams, Debs immediately arranged for members of the board to speak that night to the Strike Committee about the proposal. Once again, however, Addams's colleagues failed to follow through. She was the only board member to turn up.
At the meeting, the strike leaders were suspicious, believing that arbitration was the company's idea. No report survives of how Addams made her case to them, but one can glean impressions from a description of Addams that a reporter published in a newspaper article in June 1894. She described Addams as a "person of marked individuality[;] she strikes one at first as lacking in suavity and graciousness of manner but the impression soon wears away before [her] earnestness and honesty." She was struck, too, by Addams's paleness, her "deep" eyes, her "low and well-trained voice," and they way her face was "a window behind which stands her soul."
Addams must have made a powerful presentation to the Strike Committee. After she spoke, it voted to arbitrate not only the rents but any point. It was the breakthrough Addams had been hoping for. "Feeling that we had made a beginning toward conciliation," Addams remembered, she reported her news to the board.
Meanwhile, with the workers and their families' hunger and desperation increasing, tensions were mounting. Wishing to increase the pressure on the company, Debs had declared on June 1 that the ARU was willing to organize a nationwide sympathy boycott of Pullman cars among railroad employees generally if the company did not negotiate. The Pullman Company's cars, though owned and operated by the company, were pulled by various railroads. A national boycott of Pullman cars could bring the nation's already devastated economy to a new low point. Meanwhile, the ARU opened its national convention in Chicago on June 12. Chicago was nervous. Even before the convention began, Addams commented to William Stead, in town again for a visit, that "all classes of people" were feeling "unrest, discontent, and fear. We seem," she added, "to be on the edge of some great upheaval but one can never tell whether it will turn out a tragedy or a farce."
Several late efforts at negotiation were made. On June 15 an ARU committee of twelve, six of them Pullman workers, met with Wickes to ask again whether the company would arbitrate. His answer was the same: there was nothing to arbitrate and the company would not deal with a union. Soon afterward George Pullman returned to town. He agreed to meet with the conciliation board but, perhaps sensing the danger that the sincere and persuasive Jane Addams posed, only with its male members. At the meeting he restated his position: no arbitration. At this point, Addams recalled, the board's effort collapsed in "failure." The strike was now almost two months old. Addams had done everything she could to bring about arbitration. Resourceful, persistent, even wily, she had almost single-handedly brought the workers to the table, but because she was denied access to George Pullman on the pretext of her gender, she had failed to persuade the company. Her efforts, however, had made something very clear to herself and many others—that George Pullman's refusal to submit the dispute to arbitration was the reason the strike was continuing.
The situation now became graver. At the ARU convention, the delegates voted on June 22 to begin a national boycott of Pullman cars on June 26 if no settlement were reached. Abruptly, on the same day as the vote, a powerful new player, the General Managers Association (GMA), announced its support for the company. The GMA had been founded in 1886 as a cartel to consider "problems of management" shared by the twenty-four railroad companies serving Chicago; it had dabbled in wage-fixing and had long been opposed to unions. George Pullman's refusal to arbitrate had been, among other things, an act of solidarity with these railroad companies, his business partners. Disgusted with the outcome of the Great Northern Strike, they were determined to break the upstart ARU, which threatened to shrink the profits of the entire industry. Pullman departed the city again in late June for his vacation home in New Jersey, leaving the GMA in charge of the antistrike strategy. It announced that any railroad worker who refused to handle Pullman cars would be fired.
The ARU was undaunted. On June 26 the boycott began. Within three days, one hundred thousand men had stopped working and twenty railroads were frozen. Debs did not mince words in his message to ARU members and their supporters. This struggle, he said, "has developed into a contest between the producing classes and the money power of this country." Class warfare was at hand.
Jane Addams was not in the city when the ARU voted for the boycott. She had gone to Cleveland to give a commencement speech on June 19 at the College for Women of Western Reserve University. But she was in Chicago when the boycott began. Chicago felt its impact immediately. There was no railroad service into or out of the city, and public transportation within the city also ceased as the streetcar workers joined the boycott. With normal life having ground to a halt, the city's mood, which had been initially sympathetic to the workers, began to polarize along class lines. Working people's sympathies for the railroad workers and hostility toward capitalists rose to a fever pitch while many people in the middle classes felt equally hostile toward the workers; some thought that the strikers should be shot. In Twenty Years Addams writes, "During all those dark days of the Pullman strike, the growth of class bitterness was most obvious." It shocked her. Before the strike, she writes, "there had been nothing in my experience [that had] reveal[ed] that distinct cleavage of society which a general strike at least momentarily affords."
The boycott quickly spread, eventually reaching twenty-seven states and territories and involving more than two hundred thousand workers. It had become the largest coordinated work stoppage in the nation's history and the most significant exercise of union strength the nation had ever witnessed. The workers were winning through the exercise of raw economic power. Virtually the only railcars moving were the federal mail cars, which the boycotting railroad workers continued to handle, as required by federal law and as Debs had carefully instructed them. The railroad yards in the city of Chicago were full of striking workers and boycotters determined to make sure that other railroad cars did not move and to protect them from vandalism.
Now the GMA took aggressive steps that would change the outcome of the strike. On June 30 it used h its influence in Washington to arrange for its own lawyer, Edwin Walker, to be named a U.S. Special Attorney. Walker then hired four hundred unemployed men, deputized them as U.S. Marshals, armed them, and sent them to guard the federal mail cars in the railroad yards to be sure the mail got through. In the yards, the strikers and marshals eyed each other nervously.
Meanwhile, on June 29, Jane Addams's family crisis worsened. Jane had visited Mary on June 28 but returned to Chicago the same day. That night she received word that her sister's condition suddenly had become serious, and the following day she rushed back to Kenosha the next day accompanied by Mary's son Weber Linn (apparently they traveled in a mail car thanks to Addams's ties to the strikers). She deeply regretted having been gone so much. "My sister is so pleased to have me with her," she wrote Mary Rozet Smith, "that I feel like a brute when I think of the days I haven't been here." As Addams sat by Mary's bed in Kenosha, the situation in Chicago remained relatively calm. Nevertheless, the GMA now took two more steps that further drew the federal government into the crisis. Claiming that the strikers were blocking the movement of the federal mails (although the subsequent federal investigation produced no evidence that this was true), the GMA asked the U.S. attorney general to ask President Grover Cleveland to send federal troops to shut down the strike. Cleveland agreed, and on July 3 the first troops entered the city. The same day the attorney general ordered Special Attorney Walker to seek an injunction in federal court against the ARU in order to block the union from preventing workers from doing their work duties. The injunction was immediately issued.
By July 1 it was clear that Mary Addams Linn was dying. Addams wired her brother-in-law John and the two younger children, Esther, thirteen, and Stanley, who had recently turned eleven, to come from Iowa to Kenosha. By July 3 they had somehow reached Chicago but, because of the boycott, they could not find a train for the last leg of their trip. At last John signed a document relieving the railroad of liability; then, he, Esther, and Stanley boarded a train (probably a mail train) and within hours had arrived in Kenosha, protected, or so Esther later believed, by the fact that they were relatives of Jane Addams, "who was working for the strikers." Mary's family was now all gathered around her except for her oldest son, John, who was still in California. Unconscious by the time they arrived, she died on July 6.
| | |
| --- | --- |
| | Illinois National Guard troops in front of the Arcade Building in Pullman during the Pullman Strike. [Neg. i21195aa.tif, Chicago Historical Society.] |
| | |
While Jane Addams's private world was crumbling, so was Chicago's civic order. On July 4, one thousand federal troops set up camp around the Post Office and across the city, including the Pullman headquarters. On July 5 and 6 thousands of unarmed strikers and boycotters crowded the railroad yards, joined by various hangers-on—hungry, angry, unemployed boys and men. Many were increasingly outraged by the armed marshals and the troops' presence. Suddenly a railroad agent shot one of them, and they erupted into violence. Hundreds of railroad cars burned as the troops moved in. Now the strikers were fighting not only the GMA but also the federal government. This had been the GMA's aim all along. In the days to come, thousands more federal troops poured into the city.
After attending Mary's funeral in Cedarville Jane Addams returned on July 9 to find Chicago an armed camp and class warfare on everyone's minds. In working-class neighborhoods such as the Nineteenth Ward, people wore white ribbons in support of the strike and the boycott. Across town, middle-class people were greeted at their breakfast tables by sensational newspaper headlines claiming that the strikers were out to destroy the nation. One Tribune headline read, "Dictator Debs versus the Federal Government." The national press echoed the theme of uncontrolled disorder. Harper's Weekly called the strikers "anarchists." And the nation remained in economic gridlock. Farmers and producers were upset that they could not move their produce to market. Passengers were stranded. Telegrams poured into the White House.
Like the strikers' reputation, Hull House's was worsening daily. Until the strike took place, Addams later recalled, the settlement, despite its radical Working People's Social Science Club, had been seen as "a kindly philanthropic undertaking whose new form gave us a certain idealistic glamour." During and after the strike, the situation "changed markedly." Although Addams had tried to "maintain avenues of intercourse with both sides," Hull House was now seen as pro-worker and was condemned for being so. Some of the residents were clearly pro-worker. Florence Kelley and one of her assistant factory inspectors, Alzina Stevens, befriended Debs during the strike and its aftermath. Stevens sheltered him for a time in her suburban home when authorities were trying to arrest him; Kelley tried to raise money for his bail after he was arrested later in July.
Addams and Hull House began to be severely criticized. Donors refused to give. Addams told John Dewey, who had come to town to take up his new position at the University of Chicago, that she had gone to meet with Edward Everett Ayer, a Chicago businessman with railroad industry clients who had often supported Hull House's relief work, to ask him for another gift. Dewey wrote his wife, "[Ayer] turned on her and told her that she had a great thing and now she had thrown it away; that she had been a trustee for the interests of the poor, and had betrayed it [sic]—that like an idiot she had mixed herself in something which was none of her business and about which she knew nothing, the labor movement and especially Pullman, and had thrown down her own work, etc., etc." That autumn Addams had "a hard time financing Hull-House," a wealthy friend later recalled. "Many people felt she was too much in sympathy with the laboring people." Addams merely notes in Twenty Years that "[in] the public excitement following the Pullman Strike Hull House lost many friends."
And there were public criticisms as well. Some middle- and upper-class people attacked Addams, one resident remembered, as a "traitor to her class." When Eugene Debs observed that "epithets, calumny, denunciation . . . have been poured forth in a vitriolic tirade to scathe those who advocated and practiced . . . sympathy," one suspects that he had in mind the treatment Jane Addams received. Meanwhile, the workers were angry that Addams would not more clearly align herself with their cause. Her stance—that she would take no side—guaranteed that nearly everyone in the intensely polarized city would be angry with her.
Standing apart in this way was extremely painful. She was "very dependent on a sense of warm comradeship and harmony with the mass of her fellowmen," a friend, Alice Hamilton, recalled. "The famous Pullman strike" was "for her the most painful of experiences, because . . . she was forced by conviction to work against the stream, to separate herself from the great mass of her countrymen." The result was that Addams "suffered from . . . spiritual loneliness." In these circumstances, no one could mistake Addams's neutrality for wishy-washiness. Practicing neutrality during the Pullman Strike required integrity and courage. In being true to her conscience, she paid a tremendous price.
Of course, the strike was not the only reason she was lonely. Mary's death was the other. And if, as we may suspect, Mary's passing evoked the old trauma for Jane of their mother Sarah's passing, not to mention the later losses of their sister Martha and their father, then the loneliness Addams felt in the last days of the strike and the boycott was truly profound.
She does not describe these feelings when she writes about the strike and Mary's death in Twenty Years, but in the chapter about Abraham Lincoln, she conveys her feelings well enough. She tells about a walk she took in the worst days of the strike. In that "time of great perplexity," she writes, she decided to seek out Lincoln's "magnanimous counsel." In the sweltering heat, dressed in the long skirt and long-sleeved shirtwaist that were then the fashion, Addams walked—because the streetcars were on strike—four and a half "wearisome" miles to St. Gaudens's fine new statue of Lincoln, placed at the entrance to Lincoln Park just two years earlier, and read the words cut in stone at the slain president's feet: "With charity towards all." And then, still bearing on her shoulders the burden of public hatred that Lincoln had also borne, she walked the four and a half miles home.
Although the deployment of troops had broken the strike's momentum, the government needed to put the strike's leader behind bars to bring the strike to an end. On July 10 Debs was indicted by a grand jury for violating the injunction and arrested. Bailed out two days later, he was arrested again on July 17 to await trial in jail. However, when the government prosecutor, the ubiquitous Edwin Walker, became ill, the trial was postponed, and Debs went home to Indiana, where he collapsed gratefully into bed. The trial was held in November 1894; Debs would begin serving his six-month sentence in January 1895.
With Debs removed from leadership and fourteen thousand armed troops, police, and guardsmen bivouacked in Chicago, the strike and the boycott soon collapsed. On August 2 the ARU called off the strike, and on the same day the Pullman Company partially reopened. The railroads were soon running again. The anti-labor forces had won. Private industry and the federal government had shown that, united and with the power of the law on their side, no one, not even the hundreds of thousands of workers who ran the nation's most crucial industry, could defeat them. If the strike had been successful, it would have turned the ARU into the nation's most powerful union. Given that the strike failed, the opposite result took place. As the GMA had intended, the ARU died. After Debs was released from jail, he did not resurrect the union.
Although the strike was over, innumerable questions remained unanswered. For the country as a whole, whose only sources of information had been sensational news stories and magazine articles, the first question was: What were the facts? To sort these out, President Grover Cleveland appointed a three-person fact-finding commission to investigate and issue a report. Jane Addams would testify before the United States Strike Commission in August, as would George Pullman.
Meanwhile, for Addams and other labor and middle-class reformers in Chicago, the question was how to prevent or resolve future strikes. The Conciliation Board's effort to promote voluntary arbitration had been promising, but its failure revealed, Addams believed, certain "weaknesses in the legal structure," that is, in state and federal laws. On July 19, two days after Debs' second arrest, as the troops began slowly to withdraw from the city, the Central Council of the Civic Federation met at the Commerce Club. At the meeting, M. C. Carroll, editor of a labor magazine and a member of the Conciliation Board, proposed that the federation host a conference "on arbitration or conciliation" to seek ideas about ways to avert "strikes and boycotts in the future." The Central Council "enthusiastically endorsed" the proposal and appointed a committee to devise a plan. The hope was to do something immediately, while interest was high, to increase public support for arbitration legislation in Illinois and across the nation.
Addams missed the meeting because she was assisting at the Hull House Summer School at Rockford College, which began on July 10. But she was back in Chicago by the second week in August and had soon joined the arbitration conference committee. It devised a three-part strategy. First, it would convene "capital and labor" at a national conference titled "Industrial Conciliation and Arbitration" in Chicago in November to provide a forum for "calm discussion" of the questions raised by the strike and bring together information about methods of arbitration and conciliation. Second, conference participants from Illinois would press the Illinois General Assembly to pass a law creating a state board of arbitration. Third, a national commission would be named at the end of the conference to press for federal legislation. Elected as secretary to the committee, Jane Addams threw herself into organizing the event.
At the same time, she took on new family responsibilities. With Mary's death, Jane Addams, at thirty-three, became the guardian and mother of the two younger Linn children. Their father had decided he could not afford to keep them. For the fall, she and Alice agreed that Stanley would live at Hull House and Esther would attend the preparatory boarding school that was affiliated with Rockford College. Weber, nineteen, was still a student at the University of Chicago. He would spend his vacations at Hull House. The oldest son, John, twenty-two, having returned from California, was once again a resident at Hull House and studying for the Episcopalian priesthood. Esther remembered Addams as taking "me and my brothers in as her own children. . . . [She] was a wonderful mother to us all." Addams was particularly close to Stanley, who, according to Alice's daughter Marcet, "became . . . Aunt Jane's very own little boy[;] . . . he was always like a son to her."
Jane Addams would honor this family claim for the rest of her life. Her niece and nephews, later joined by their children, would gather with her for holidays, live with her at Hull House at various times in their lives, and rely on her for advice, as well as for a steady supply of the somewhat shapeless sweaters that she would knit for them. Because few letters between Addams and the Linn children have survived, the historical record is mostly silent about the affectionate bonds that linked them and the faithfulness with which she fulfilled the maternal role. Her devotion arose from a deep understanding of what it felt like for a child to lose its mother and from a deep gratitude that she could give to Mary's children the gift Mary had given her.
The Pullman Strike was a national tragedy that aroused fierce passions and left many scars. For many in the middle classes, including Jane Addams, some of the most painful scars were the memories of the intense hatred the strike had evoked between the business community and the workers. Was such class antagonism inevitable? Many were saying so, but Addams, committed as she was to Tolstoyan and Christian nonviolence, social Christian cooperation, and Comtean societal unity, found it impossible to accept the prevailing view. That fall she and John Dewey, now the first chair of the Department of Philosophy at the University of Chicago, discussed this question. In a letter to his wife Alice Dewey reported telling Addams that conflict was not only inevitable but possibly a good thing. Addams disagreed. She "had always believed and still believed," he wrote, that "antagonism was not only useless and harmful, but entirely unnecessary." She based her claim on her view that antagonisms were not caused by, in Dewey's words, "objective differences, which would always grow into unity if left alone, but [by] a person's mixing in his own personal reactions." A person was antagonistic because he took pleasure in opposing others, because he desired not to be a "moral coward," or because he felt hurt or insulted. These were all avoidable and unnecessary reactions. Only evil, Addams said, echoing Tolstoy, could come from antagonism.
During their conversation, she asked Dewey repeatedly what he thought. Dewey admitted that he was uncomfortable with Addams's theory. He agreed that personal reactions often created antagonism, but as for history, he was enough of a social Darwinist and a Hegelian to believe that society progressed via struggle and opposition. He questioned her. Did she not think that, in addition to conflict between individuals, there were conflicts between ideas and between institutions, for example, between Christianity and Judaism and between "Labor and Capital"? And was not the "realization of . . . antagonism necessary to an appreciation of the truth and to a consciousness of growth"?
Again she disagreed. To support her case Addams gave two examples of apparently inevitable conflicts involving ideas or institutions that she interpreted differently. When Jesus angrily drove the moneychangers out of the temple, she argued, his anger was personal and avoidable. He had "lost his faith," she said, "and reacted." Or consider the Civil War. Through the antagonism of war, we freed the slaves, she observed, but they were still not free individually, and in addition we have had to "pay the costs of war and reckon with the added bitterness of the Southerner besides." The "antagonisms of institutions," Dewey told Alice, summarizing Addams's response, "were always" due to the "injection of the personal attitude and reaction."
Dewey was stunned and impressed. Addams's belief struck him as "the most magnificent exhibition of intellectual & moral faith" that he had ever seen. "[W]hen you think," he wrote Alice, "that Miss Addams does not think this as a philosophy, but believes it in all her senses & muscles—Great God." Dewey, gripped by the power of Addams's grand vision, told Alice, "I never had anything take hold of me so."
But his intellect lagged behind. Struggling to find a way to reconcile his and Addams's views, Dewey attempted a formulation that honored Addams's devotion to unity, which he shared, while retaining the principle of antagonistic development that Addams rejected but he could not abandon. "[T]he unity [is not] the reconciliation of opposites," he explained to his wife. Rather, "opposites [are] the unity in its growth." But he knew he had avoided a real point of disagreement between them. He admitted to Alice, "[M]y pride of intellect . . . revolts at thinking" that conflict between ideas or institutions "has no functional value." His and Addams's disagreement—was it an antagonism?—was real, and in discovering it, the two had taken each other's measure. Addams's principled vision and spiritual charisma had met their match in the cool machinery of John Dewey's powerful mind.
Two days later Dewey sent Addams a short note in which he retracted part of what he had said. He was now willing to agree, he wrote, that a person's expectation of opposition was in and of itself not good and even that it caused antagonism to arise. "[T]he first antagonism always come[s] back to the assumption that there is or may be antagonism," he wrote, and this assumption is "bad." In other words, he was agreeing with Addams's points that antagonism was evil and that it always began in the feelings or ideas of the individual. Dewey did not, however, retract his claim that conflict had its historical uses. These were, as he had said, to appreciate truth and to be conscious of its growth, that is, its spread. He was speaking as the Christian idealist he still was—someone who saw truth as God's revelation. Antagonism, in other words, helped bring man to see the truth, and this was its value.
When Dewey agreed with Addams that opposition originated in individual feelings, he was joining her in rejecting the usual view that objective differences justified antagonism. This was the view that unions held. Workers believed that the antagonism between themselves and employers arose because workers lacked something real and necessary: sufficient negotiating power in the relationship. In denying this, Dewey and Addams were being, in the simplest sense, determinedly apolitical. Addams, despite her recent involvement with strikes and politics, still refused to believe that actual conditions could provide legitimate grounds for opposition. Her idealism, expressed in her fierce commitment to cooperation, Christian love, nonresistance, and unity, stood like a wall preventing her from seeing that power, as much as personal feelings, soured human relations. A strong mind is both an asset and a liability.
That fall, Hull House, returning to normalcy, resumed its rich schedule of classes, club meetings, lectures, and exhibits. As usual, Addams was seriously worried about the settlement's finances. The size of the total deficit for the year is unknown, but her awareness that the household operating account was $888 in arrears surfaced in a letter to Mary. As she had in previous years, Addams paid for part of the debt herself (how much is unclear; the documentation does not survive). Mary Rozet Smith, among others, sent a generous check. "It gives me a lump in my throat," Addams wrote her in appreciation, "to think of the dollars you have put . . . into the . . . prosaic debt when there are so many more interesting things you might have done and wanted to do." Aware of the delicacy of asking a close friend for donations, Addams sounded a note of regret. "It grieves me a little lest our friendship should be jarred by all these money transactions."
As before, the residents were in the dark about the state of Hull House's finances. Despite her intentions to keep them informed, Addams had convened no Residents' Meeting between April and October, perhaps because the strike and Mary's illness had absorbed so much of her attention. Finally, in early November she and the residents had "a long solemn talk," as she wrote Mary. She had laid "before folks" the full situation and asked them "for help and suggestions." And she had vowed that she would "never . . .let things get so bad again" before she consulted them. "I hope," she told Mary, "we are going to be more intimate and mutually responsible on the financial side."
Addams was renewed in her determination for two reasons. First, there was the problem of her own worsening finances. Since July she had assumed the new financial burden, apparently without any help from Alice, of raising Mary's two younger children. Second, there was her increasing fear, as the depression deepened and donations dropped because of Hull House's involvement with the Pullman Strike, that her personal liability for Hull House's debts could literally put her in the Dunning poorhouse. Meanwhile, she pushed herself to speak as often as she could to earn lecture fees. In October she reported to Alice that she had given five talks in one week. In November, she gave lectures in three states—Illinois, Wisconsin, and Michigan. It was all that she could think of to do: to work harder.
Hull House was doing well enough by other measures. The residents' group continued to grow. Despite the house's recently stained reputation and the risky state of its finances, five new residents arrived, all women, bringing the total to twenty. For 1894–95, the residents had decided, probably at Addams's urging, to limit the size of the residents, group to that number. There was now a good mix of old and new, with the majority, like Starr, Lathrop, and Kelley, having been there two years or more. The number of men had shrunk from seven to two, but in a few years it would be back to five. Addams, as always, took her greatest pleasure in the effervescent dailiness of it all. The settlement was first and foremost something "organic," a "way of life," she told an audience at the University of Chicago that fall.
Furthermore, the residents' book of maps was moving toward completion. Conceived originally as a way to publicize some of the data about the neighborhood from the Department of Labor study, it had expanded to include a collection of essays on various related subjects and had acquired a sober New York publisher, Thomas Y. Crowell and Company, and a glorious title,Hull-House Maps and Papers: A Presentation of Nationalities and Wages in a Congested District of Chicago, Together with Comments and Essays on Problems Growing Out of the Social Conditions. The byline, it was agreed, would read "Residents of Hull-House." It would be published in March 1895. Five of the essays, those by Kelley, Lathrop, Starr, and Addams, were much-expanded versions of the presentations they had made at the Congress on Social Settlements the previous year. Five others rounded out the collection. These dealt with the Bohemians, the Italians, and the Jews of the neighborhood, the maps, and the wages and expenses of cloakmakers in Chicago and New York. The maps were the book's original inspiration and its most extravagant feature. Printed on oiled paper, folded and tucked into special slots in the book's front and back covers, they displayed, block by block and in graphic, color-coded detail, where people of different nationalities lived in the ward and the range of wages they earned.
Addams, happy to be back in the editor's chair, wrote the prefatory note, edited essays, and wrote the meaty appendix that described the settlement's activities and programs. The book's title was likely also her handiwork. Descriptive, indeed, exhaustive, it was the sort of title in which she specialized. As she once admitted to Weber Linn, "I am very poor at titles." The book was very close to her heart. When she wrote Henry Demarest Lloyd on December 1 to thank him for sending the house a copy of his Wealth Against Commonwealth, she observed, "I have a great deal of respect for anyone who writes a good book." After Maps was published she noted to those to whom she sent copies, "We are very proud of the appearance of the child."
Jane Addams's contribution to Maps was her essay "The Settlement as a Factor in the Labor Movement." Her intention was to give a history of Hull House's relations with unions as a sort of case study and to examine why and how settlements should be engaged with the labor movement. The piece is straightforward in tone, nuanced, not polemical. In it she settles fully into the even-handed interpretive role she had first attempted in her speech on domestic servants eighteen months earlier.
But the essay also burns with the painful knowledge she gained from the Pullman Strike. She wrestles with the tension between the labor movement's loyalty to its class interests and her own vision of a classless, universalized, democratic society. And she probes the philosophical question she and Dewey had been debating: Are (class) antagonisms inevitable? Are antagonisms useful? The resulting essay was the most in-depth exploration of the subject of class that Addams would ever write. She was trying to find her way back from the edge of the cliff—class warfare—to which the Pullman Strike had brought her and the nation.
On the question of what the strike accomplished, her thoughts had shifted somewhat. Although she had told Dewey that antagonism was always useless, she argues in "The Settlement as a Factor" that strikes, which were certainly were a form of antagonism, can be useful and necessary. Strikes are often "the only method of arresting attention to [the workers'] demands"; they also offer the permanent benefits of strengthening of the ties of "brotherhood" among the strikers and producing (at least when successful) a more "democratic" relation between workers and their employer. Perhaps Dewey had been more persuasive than he realized.
She still felt, however, that personal emotion was the main cause of antagonisms, including strikes. She admits that labor has a responsibility to fight for the interests of the working people (that is, more leisure and wealth) but only because achieving them would help the workingman feel less unjustly treated. She charges labor with storing up of "grudges" against "capitalists" and calls this "selfish." She ignores the question of whether low wages and long hours are fair. Social justice is not a touchstone for her arguments in this essay.
Instead, Addams stresses the ideal she had emphasized since coming to Chicago: that of a society united by its sense of common humanity. She writes prophetically of "the larger solidarity which includes labor and capital" and that is based on a "notion of universal kinship" and "the common good." One might read into her argument the conclusion of social justice, yet the principle remains uninvoked. Instead, Addams stays focused on feelings. She is calling for sympathy for others' suffering, not for a change in workers' physical condition.
Addams disapproves of capitalism but not because of its effects on the workers. The moral failings of the individual capitalist trouble her. She slips in a rather radical quotation by an unnamed writer: "The crucial question of the time is, 'In what attitude stand ye toward the present industrial system? Are you content that greed . . . shall rule your business life, while in your family and social life you live so differently? Shall Christianity have no play in trade?'" In one place, although only one place, she takes workers' perspective and refers to capitalists as "the power-holding classes." (Here at last was a glancing nod toward power.) The closest she comes to making a social justice argument is in a sentence whose Marxist flavor, like the previous phrase, suggests Florence Kelley's influence, yet it, too, retains Addams's characteristic emphasis on feelings. She hopes there will come a time "when no factory child in Chicago can be overworked and underpaid without a protest from all good citizens, capitalist and proletarian." While Debs had wanted to arouse middle-class sympathies as a ways to improve the working conditions of the Pullman laborers, Addams wanted the labor movement to cause society to be more unified in its sympathies. Their means and ends were reversed.
Addams found the idea that labor's organizing efforts could benefit society compelling. "If we can accept" that possibility, she adds, then the labor movement is "an ethical movement." The claim was a startling one for her to make. It seems the strike had shown her at least one moral dimension to the workers' struggle. The negative had become the potentially positive. Instead of seeing labor's union organizing as a symptom of society's moral decay, as she once had and many other middle-class people still did, she was considering the hypothesis that labor organizing was a sign of society's moral redemption.
The Pullman Strike also cracked her moral absolutism. In "The Settlement as a Factor" she argues for the first time that no person or group can be absolutely right or absolutely wrong. "Life teaches us," she writes, that there is "nothing more inevitable than that right and wrong are most confusingly mixed; that the blackest wrong [can be] within our own motives." When we triumph, she adds, we bear "the weight of self-righteousness." In other words, no one—not unions and working-class people, not businesses and middle-class people, not settlement workers and other middle-class reformers—could claim to hold or ever could hold the highest moral ground. The absolute right did not exist.
For Addams, rejecting moral absolutism was a revolutionary act. She had long believed that a single true, moral way existed and that a person, in theory, could find it. This conviction was her paternal inheritance (one recalls her father's Christian perfectionism) and her social-cultural inheritance. Moral absolutism was the rock on which her confident Anglo-American culture was grounded. (It is also the belief that most sets the nineteenth century in the West apart from the twenty-first century.) Now she was abandoning that belief. In the territory of her mind, tectonic plates were shifting and a new land mass of moral complexity was arising.
In the fall of 1894, as she was writing "The Settlement as a Factor," this new perspective became her favorite theme. In October she warned the residents of another newly opened settlement, Chicago Commons, "not to be alarmed," one resident recalled, "if we found our ethical standards broadening as we became better acquainted with the real facts of the lives of our neighbors." That same month, speaking to supporters of the University of Chicago Settlement, she hinted again at the dangers of moral absolutism. Do not, she said, seek "to do good." Instead, simply try to understand life. And when a group of young men from the neighborhood told her they proposed to travel to New York City that fall to help end political corruption and spoke disdainfully of those who were corrupt, she admonished them against believing that they were purer than others and asked them if they knew what harm they did in assuming that they were right and others were wrong.
What had she seen during the Pullman Strike that led to this new awareness? She had seen the destructive force of George Pullman's moral self-righteousness. It seemed to her that his lack of self-doubt, that is, his unwillingness to negotiate, had produced a national tragedy; his behavior and its consequences had revealed the evil inherent in moral absolutism. In Twenty Years she writes of how, in the midst of the strike's worst days, as she sat by her dying sister's bedside, she was thinking about "that touch of self-righteousness which makes the spirit of forgiveness well-nigh impossible."
She grounded her rejection of absolute truth in her experience. "Life teaches us," she wrote. This was as revolutionary for her as the decision itself. In "Subjective Necessity" she had embraced experience as a positive teacher in a practical way. Here she was allowing experience to shape her ethics. The further implication was that ethics might evolve, but the point is not argued in "The Settlement as a Factor." Still, in her eyes ideas no longer had the authority to establish truth that they once had. Her pragmatism was strengthening, but it had not yet blossomed into a full-fledged theory of truth.
The Pullman Strike taught her in a compelling way that moral absolutism was dangerous, but she had been troubled by its dangers before. She had made her own mistakes and, apparently, a whole train of them related to self-righteousness. The details have gone unrecorded, but they made her ready to understand, and not afterwards forget, something James O. Huntington, the Episcopal priest who had shared the podium with her at the Plymouth conference, had said in a speech at Hull House the year before the strike. "I once heard Father Huntington say," she wrote in 1901, that it is "the essence of immorality to make an exception of one's self." She elaborated. "[T]o consider one's self as . . . unlike the rank and file is to walk straight into the pit of self-righteousness." As Addams interpreted Huntington, he meant there was no moral justification for believing in one's superiority, not even a belief that one was right and the others wrong.
A deeply held, central moral belief is like a tent pole: it influences the shape of the entire tent that is a person's thought. A new central belief is like a taller or shorter tent pole; it requires the tent to take a new shape. The tent stakes must be moved. Jane Addams had decided there was no such thing as something or someone that was purely right or purely wrong, but the rest of her thought had yet to be adjusted. Among other things, she still believed that a person of high culture was superior to those who lacked it; that is, she still believed that cultural accomplishment could justify self-righteousness.
Some hints of this can be found in the adjectives Addams attaches to democracy in "The Settlement as a Factor." After proposing that the workers might lead the ethical movement of democracy, she anticipates the fear her readers might feel at this idea. "We must learn to trust our democracy," she writes, "giant-like and threatening as it may appear in its uncouth strength and untried applications." Addams was edging toward trusting that working-class people, people without the cultural training in "the best," could set their own course. Such trust, should she embrace it, would require her to go beyond her old ideas—her enthusiasm for egalitarian social etiquette, for the principle of cooperation, and for the ideal of a unified humanity. Not feeling such trust yet, she was unable to give working people's power a ringing endorsement. The essay is therefore full of warnings about the negative aspects of the labor movement.
These radical claims—that the labor movement was or could become ethical, that the movement was engaged in a struggle that advanced society morally, that capitalists were greedy and ethically compromised, and that there was no absolute right or wrong—opened up a number of complicated issues. Addams decided she needed to write a separate essay—would it be a speech?—to make these points more fully and to make them explicitly, as honesty compelled her to do, about the Pullman strike. Sometime in 1894, she began to write it. A page from the first draft, dated that year, survives with the title "A Modern Tragedy." In its first paragraph she writes that, because we think of ourselves as modern, "it is hard to remember that the same old human passions persist" and can often lead to "tragedy." She invited her readers to view "one of these great tragedies" from "the historic perspective," to seek an "attitude of mental detachment" and "stand aside from our personal prejudices." Still grieving over what had happened, Addams was hoping that the wisdom of culture, of the humanities, of Greek and Shakespearean tragedy could give her the comfort of emotional distance. But she had pulled too far back. The opening was so blandly vague and philosophical that no one could tell what the essay was about. She set the piece aside.
To read more about Citizen, click here.