Timing and Turnout on 538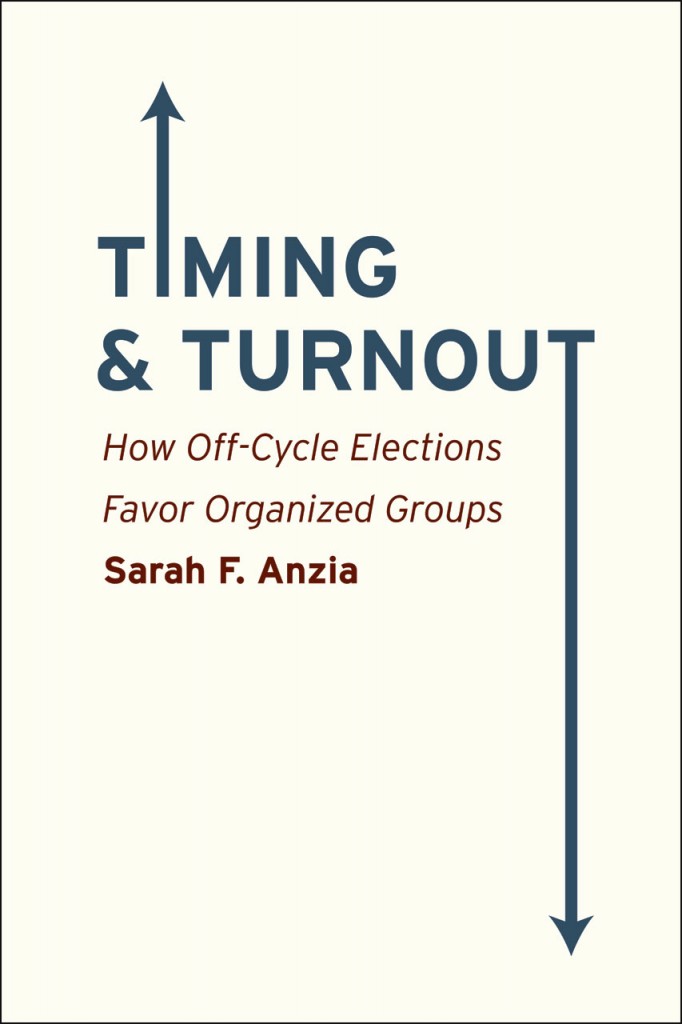 In a piece for FiveThirtyEight, "How Democrats Suppress the Vote," Eitan Hersh connects the dots between low voter turnout, off-year elections, and the pursuit of (often municipal) policy goals. Arguing that off-cycle elections inherently yield a decreased number of voters disinterested in having to vote multiple times or engaging in local-level politics, Hersh turns to Sarah F. Anzia's Timing and Turnout: How Off-Cycle Elections Favor Organized Groups to explain why:
Political scientist Sarah Anzia, a professor at the University of California, Berkeley, gives a compelling explanation in an outstanding book published last year. The first point that Anzia makes is that the off-cycle election calendar is not a response to voter preferences; voters do not like taking multiple trips to the voting booth. Anzia asked a nationally representative sample of Americans if they prefer elections held at different times for different offices "because it allows voters to focus on a shorter list of candidates and issues during each election" or all at the same time "because combining the elections boosts voter turnout for local elections." Voters of all political stripes prefer consolidated elections, and by wide margins. But that's especially true for people who identify as Democrats, who prefer consolidated elections 73 percent to 27 percent.
Democrats, Hersh suggests, who have long championed full participation as central to the democratic process, are in fact enabling and endorsing these off-cycle elections because of what they are able to offer constituent groups mobilized around specific issues.
Hersh appropriates Anzia again on what's at stake in utilizing that strategy:
Anzia shows that off-cycle elections lead to higher salaries and better health and retirement benefits for teachers and public employees. Anzia studies these effects in many different ways. The simplest way is by looking at eight states that allow local governments to set their own election dates. She compares school districts that hold school board elections on-cycle and off-cycle within the same state. Controlling for factors that might make districts different from one another — like their population size, income, racial composition, partisan leanings and how urban or rural they are — Anzia found that the maximum base teacher salary is over 4 percent higher in districts with off-cycle elections.
Despite these advantages, by resisting consolidated elections, which a vast majority of their constituents endorse, Democrats are de facto suppressing the vote and inadvertently contextualizing how off-cycle elections, like more traditional barriers to voting,  are "imposing a cost on political participation." This, in turn, is one Anzia's core arguments: how mundane matters of scheduling are ultimately tactics that distribute political power.
To read more about Timing and Turnout, click here.