Kate Turabian is #1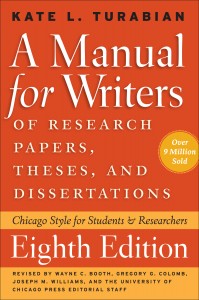 From Time's slightly soiled (c/o a surprise appearance by Evelyn Waugh) list of the 100 Most-Read Female Writers on College Campuses:
Toni Morrison and Jane Austen are among the most-read female writers on college campuses, a new TIME analysis found.
First place on the list—which is based on 1.1 million college syllabi collected by the Open Syllabus Project—goes to Kate L. Turabian for her Manual for Writers of Research Papers, Theses, and Dissertations, assigned in 3,998 classrooms over the last 15 years.
Though much coverage of Time's list skewed toward questioning how Waugh's inclusion made it so far along in the editing process (he clocked in at number 97), some blogs did point out that Turabian, while securing the top spot based on her gender affiliation at #17 overall, was still surpassed by 16 male-identified writers on a general ranking of syllabi (with Shakespeare, Plato, and Freud finishing near the top), rather unfortunately (and sadly, not all that surprisingly) leaving woman-identified writers completely out of the top ten.
Read more about all things Turabian here.
Read Time's list in full here.