"The most mind-boggling coffee table art book of 2016 (or any time)"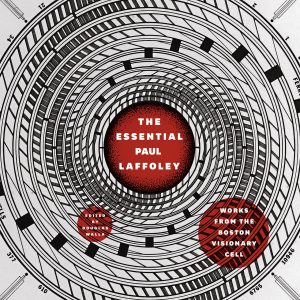 I, too, am biased. I find Paul Laffoley's work speculatively seductive—the paranoiac bad vibes-side of the New Age, mixed with some pretty great architectural schematics that anticipate accelerationism and our non-anthropocentric future. As part of a pretty compelling interview with Douglas Walla, Paul Laffoley's legendary gallerist and editor of his catalogue raisonné, conducted by Richard Metzger (another pal of Laffoley's) for Dangerous Minds, here's a chunk that capitalizes on the wonder:
Richard Metzger: Right after the publisher sent me a black and white print out of the book, you called me up and gingerly suggested that I "might want to give Paul a call at the hospital." I indicated how great I thought the book was and you replied—more poetically than I'm putting it here—that you were relieved and satisfied that Paul would die knowing that he was on his way into the modern art pantheon, on his own terms. "He's not going to die an enigma" is what you said. How did he feel about knowing the book would be coming out and the likely trajectory of his posthumous reputation as an artist? Considering his global renown and the financial success that it brought him in the final 15 years of his life, he must've been satisfied that he didn't waste his time on the planet, don't you think? Did you ever discuss that with him at the end?
Douglas Walla: I think both Paul and I knew that it was critical to publish a solid textbook on his work to validate his achievements, and to protect the originality of his thinking.  There were cases where individuals would come and visit the studio, and then publish his thoughts as their own, particularly with regard to his ideas about physically alive architecture.  That being said, I realize that there were facets to his activities that I held back on including his relationship to actual architectural practice as well as the embrace of the Outsider community.  Only AFTER the final book was delivered to the University of Chicago Press did we include his work in an Outsider Fair, and his last show at the gallery, The Force Structure of the Mystical Experience, included five visionary architectural models which were cleaned repaired, and several exhibited for the first time.
Yes, as Paul was dying, there was a sense that we had done a good job with the book, and his great contributions would be remembered.
To read more about The Essential Paul Laffoley, click here.