Edmundo Paz Soldán's Norte: A Novel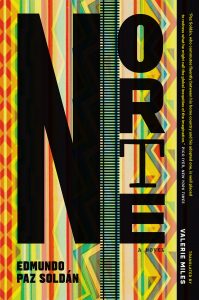 Kirkus Reviews on Edmundo Paz Soldán's Norte: A Novel, a refreshingly singular and urgent look at life "after" the US–Mexico border from one of Latin America's most prominent literary voices, in a starred review:
The lives of a mentally ill savant, a young artist, and a serial killer converge in a powerful novel that shuttles across the U.S.–Mexico border. The wide-ranging Bolivia-born Paz Soldán delivers a small cross-section of very different lives of Latinos in the United States, better to counter casual generalizations about them. But its key strength is its well-formed individual characterizations. In 2008, Michelle is a Bolivia-born college student and budding graphic novelist in Texas who risks being pulled astray by hard-partying friends and a professor she's sleeping with. In 1931, Martín is a schizophrenic Mexican immigrant who becomes a celebrated outsider artist after his institutionalization in California. (Michelle will be invited to write about Martín's work decades later.) And in northern Mexico in 1984, Jesús has begun his career as a serial killer, hopping trains across the border to hunt likely victims in Texas. Jesús, modeled after the real-life "Railroad Killer" Ángel Maturino Reséndiz, hogs the novel's stage, largely thanks to Paz Soldán's visceral descriptions of his killings, which rival Bret Easton Ellis'American Psycho for their stomach-churning impact. But Paz Soldán effectively inhabits the interior lives of each of his three characters, and Miles' translation captures their distinct emotional flavors. Martín is purposefully abstract: "His brain: a desert landscape with an occasional prickly pear or acacia bush." Michelle, the sole first-person narrator, is a spirited straight-talker. And Jesús is a terrifying vision of unchecked madness, as when he targets "gringas who couldn't stand the fact that he was alive." A detective is on Jesús' tail, but the novel's drama isn't so much in the killer's fate but in the thoughtful way Paz Soldán interweaves these three characters' lives, at once showing how they intersect while spotlighting what makes them distinctive.

A superb set of interlinked character studies.
To read more about Norte, click here.