Five Weeks of Conversations Within Communities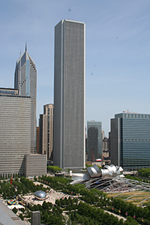 The University of Chicago Press, in partnership with the City of Chicago's Mayor's Office of Special Events, announces the launch of a new lecture series—Great Chicago Places and Spaces: Conversations Within Communities. With a goal of fostering dialogue between Chicago citizens and Chicago writers, Conversations within Communities brings award-winning authors Mary Pattillo, Ronne Hartfield, Sally A. Kitt Chappell, Louise W. Knight and Stuart Dybek to the public square. Each author will be featured in free noontime lectures in the Millennium Room at the Chicago Cultural Center, followed by free evening readings at community sites throughout Chicago. All evening readings begin at 6:30 P.M.
For more information call 312.744.3315 or navigate to the city of Chicago's Great Chicago Places and Spaces website.
Read the press release.