Advanced praise for The Getaway Car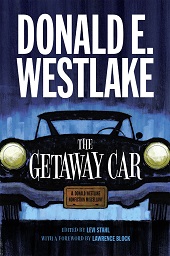 On our forthcoming The Getaway Car: A Donald Westlake Nonfiction Miscellany, from Kirkus Reviews (read the review in full here):
Westlake (1933–2008), who wrote under his own name and a handful of pseudonyms, was an award-winning writer of crime, mystery and detective novels; short stories; screenplays; and one children's book. University of Chicago Press promotions director Stahl thinks this collection of Westlake's nonfiction will please his fans; it's likely these sharp, disarmingly funny pieces will also create new ones. The editor includes a wide range of writing: interviews, letters, introductions to Westlake's and others' work, and even recipes. "May's Famous Tuna Casserole" appeared in the cookbook A Taste of Murder. May is the "faithful companion" of Westlake's famous protagonist John Dortmunder, "whose joys are few and travails many." Another of his culinary joys, apparently, was sautéed sloth. One of the best essays is "Living With a Mystery Writer," by Westlake's wife, Abby Adams: "Living with one man is difficult enough; living with a group can be nerve-wracking. I have lived with the consortium which calls itself Donald Westlake for five years now, and I still can't always be sure, when I get up in the morning, which of the mob I'll have my coffee with."
To read more about The Getaway Car (publishing September 2014), click here.