House of Debt on FT's shortlist for Business Book of the Year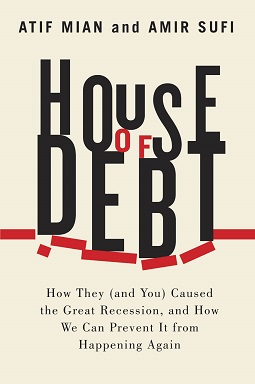 Congrats (!) to House of Debt authors Atif Mian and Amir Sufi for making the shortlist for the Financial Times and McKinsey Business Book of the Year. Now in competition with five other titles from an initial offering of 300 nominations, House of Debt—and its story of the predatory lending practices behind the Great American Recession, the burden of consumer debt on fragile markets, and the need for government-bailed banks to share risk-taking rather than skirt blame—will find out its fate at the November 11th award ceremony.
From the official announcement:
"The provocative questions raised by this year's titles have been addressed with originality, depth of research and lively writing."
 The award, now in its 10th edition, aims to find the book that provides "the most compelling and enjoyable insight into modern business issues, including management, finance and economics." The judges—who include former winners Mohamed El-Erian and Steve Coll—also gave preference this year to books "whose influence is most likely to stand the test of time."
To read more about House of Debt, including a list of reviews and a link to the authors' blog, click here.