For Mark Rothko on his birthday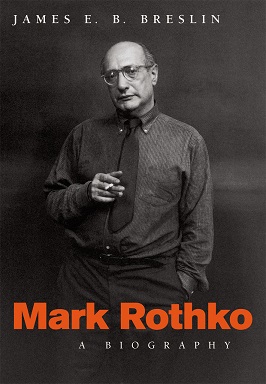 James E. B. Breslin's book on the life of painter Mark Rothko helped redefine the field of the artist's biography and, in its day, was praised by outlets such as the New York Times Book Review (on the front cover, no less), where critic Hilton Kramer ascribed it as, "the best life of an American painter that has yet been written." On what would have been the artist's 111th birthday, Biographile revisted Breslin's work:
In Breslin's book, we follow Rothko's search for the approach that would become such a significant contribution to art and painting in the twentieth century. He was in his forties before he started making his "multiforms," and even after he started painting them in his studio, he didn't show them right away. Breslin dissects and details the techniques Rothko developed upon creating his greatest works. He rotated the canvas as he worked, so that the painting wouldn't be weighted in any one direction. He spent much more time in the studio figuring out a painting than actually painting it, and he filled a canvas as many as twenty times before feeling it was done. Maybe most important, he worked tirelessly to eliminate any recognizable shapes from the multiforms. They needed to come into the world fully formed, not as interpretations of any real-life objects, but meaningful visions in and of themselves.
Nathan Gelgud, the author behind the Biographile piece, accompanied his writing with a couple of illustrated riffs on the artist, one of which we feature below, and the other you can seek out (and read the review in full) at Biographile.
To read more about Mark Rothko: A Biography, click here.