Our free e-book for October: In Defense of Negativity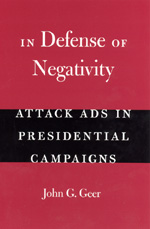 Americans tend to see negative campaign ads as just that: negative. Pundits, journalists, voters, and scholars frequently complain that such ads undermine elections and even democratic government itself. But John G. Geer here takes the opposite stance, arguing that when political candidates attack each other, raising doubts about each other's views and qualifications, voters—and the democratic process—benefit.
In Defense of Negativity, Geer's study of negative advertising in presidential campaigns from 1960 to 2004, asserts that the proliferating attack ads are far more likely than positive ads to focus on salient political issues, rather than politicians' personal characteristics. Accordingly, the ads enrich the democratic process, providing voters with relevant and substantial information before they head to the polls.
An important and timely contribution to American political discourse, In Defense of Negativity concludes that if we want campaigns to grapple with relevant issues and address real problems, negative ads just might be the solution.
"Geer has set out to challenge the widely held belief that attack ads and negative campaigns are destroying democracy. Quite the opposite, he argues in his provocative new book: Negativity is good for you and for the political system. . . . In Defense of Negativity adds a new argument to the debate about America's polarized politics, and in doing so it asserts that voters are less bothered by today's partisan climate than many believe. If there are problems—and there are—Geer says it's time to stop blaming it all on 30-second spots."—Washington Post
Download your free copy of In Defense of Negativity here.
Watch "The Bear," one of those 30-second spots (less an attack ad, and more a foray into American surrrealism) produced  for Ronald Reagan's 1984 presidential campaign, below: