Zzzzzzzzzzzzz . . . .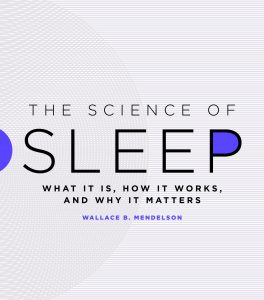 Sure–there are some subjects you wouldn't ever go to a student for an opinion on. Proper nutrition, for one. Work-life balance, for another. But sleep? Oh, they understand sleep. That may be because it's all they do–or it may be because they barely do it at all. But their knowledge? Rock solid. So to assess The Science of Sleep,  we turn to one of our student employees, Tunisia Kenyatta, an undergrad who, when we're not loading her down with work for our publicity team, studies in the Department of Comparative Race and Ethnic Studies.
Penned by Wallace B. Mendelson, retired professor of psychiatry and clinical pharmacology at the University of Chicago and former president of the Sleep Research Society, The Science of Sleep illuminates a phenomenon that has for far too long been kept in darkness. Approaching the topic of sleep from not only a scientific standpoint, but also evolutionary, historical, and social ones, the book offers an understanding of sleep in packaging that is accesible and valuable to those both inside and outside the realm of science.

Mendelson did not hesitate to cast a wide net. In addition to the elements of human sleep states and clinical sleep disorders being thoroughly addressed, the book debunks long-held misconceptions about sleep, treats with knowledge and care the relationship between sleep and psychiatric illnesses, and examines sleep as it is measured physiologically while at the same time being understood as a psychological experience. Attitudes towards the phenomenon have changed with time, with sleep only recently being treated as a necessity—and the experience of sleep has changed with it. Mendelson accounts for the idiosyncrasies of the era, speaking to the impact electronic devices have on sleep, particularly in youth, and the disorders associated with shift work, caused by night shifts and rotating hours. Not to worry, however: the outlines how to handle all of this and more, giving a guide to successful recovery sleep, improving your sleep hygiene, and enhancing sleep overall, whether by sleeping pills, herbal methods, or none of the above.

Contrary to popular belief, reading about sleep does not result in sleep— at least with this book it doesn't. Lush with vibrant pictures, diagrams, and illustrations, the book gives a practically interactive learning experience that challenges other science texts to do the same. In providing such a rich understanding of sleep, the reader is offered an opportunity to take care of their body and mind in such a way that will improve performance in all aspects of life, an achievable step towards living your best life at every stage in it.